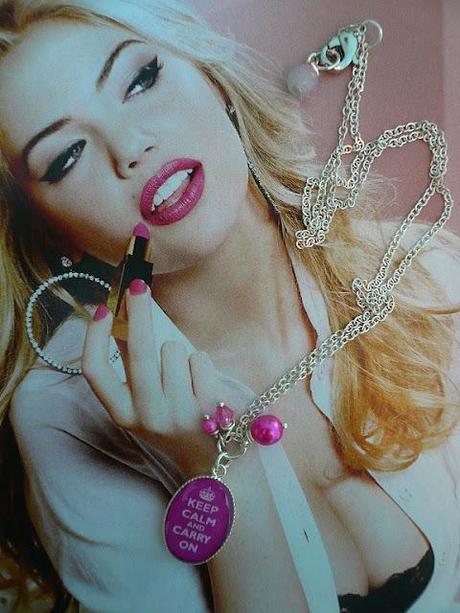 Hello to all "Fashion Tea at 5" readers!
I'm Jò and today is a plesure for me to be Mary's guest!
I'm the creative of a jewel brand: "Jò in Wonderland creations".
I started three years ago making jewelry for me, to have something only mine, special ...and since then I have not stopped! My adventure in jewelry making began assembling components (beads, metallic elements, etc ...) and has recently landed the manufacture of wire and metal  sheet.This is a kind of work that I like so much: modeling, hammering, sanding, oxide foil and sheet to create from scratch the idea in my head gives me immense satisfaction; it also allows me to create each component by hand, making truly unique pieces.Unique is a word that defines my work well, because I never make two identical pieces: every woman is unique and unrepeatable and I like the idea that my jewels are the mirror of this uniqueness. This is the added value of craft work: pieces made ​​from the heart, special, distinguishing and ... also personalized! In fact at the moment I'm realizing jewels with engraved copper plates and I can create them on commission with quotes or words chosed by the customer.Each season I realize at least 3 or 4 different collections, plus many pieces out of the collections, then each of you may find the Jò in Wonderland's jewel  that is most suited to her style or her mood of the moment!

Ciao a tutte le lettrici di Fashion Tea at 5!
Sono Jò e oggi è un piacere per me essere ospite di Mary!
Sono la creatrice di un brand di bijoux, "Jò in Wonderland Creations".
Ho iniziato tre anni fa creando gioielli per me, per avere qualcosa di solo mio, di speciale... e da allora non ho più smesso!  La mia avventura nella creazione di gioielli è iniziata assemblando componenti (perle, elementi metallici, ecc...) e negli ultimi tempi è approdata alla lavorazione di fili e lamine di metallo.Questa è una dimensione che sento molto mia:  modellare, martellare, levigare, ossidare il filo e la lamina per creare da zero l'idea che ho in testa mi da una soddisfazione immensa e inoltre mi consente di creare ogni singolo componente interamente a mano, rendendo così il gioiello un pezzo davvero unico. Unico è un aggettivo che definisce bene i miei lavori, perchè non faccio mai due pezzi identici: ogni donna è unica e irripetibile e mi piace l'idea che i miei gioielli siano lo specchio di questa unicità. Questo è il valore aggiunto dell'artigianato: pezzi fatti con il cuore, unici, per distinguersi e... anche personalizzati: ultimamente sto realizzando piastrine di rame con incise delle frasi e sono disponibile a realizzarne su commissione con frasi scelte dal cliente.
Ogni stagione realizzo almeno 3 o 4 collezioni diverse, più molti pezzi fuori collezione, quindi ognuna di voi può trovare il gioiello Jò in Wonderland che più si addice al suo stile o al suo umore del momento!
Once again I thank Mary for the opportunity, I thank you too, and I leave you my contacts:Ringrazio ancora Mary per l'opportunità, ringrazio voi, e vi lascio i miei contatti:facebook: http://www.facebook.com/jo.in.wonderland.creationsblog: http://joyblonde.blogspot.it/shop on-line: http://blomming.com/mm/joinwonderland/itemsmail: joyblonde@libero.it