Iplay cool. I play cool as if this were an ordinary time - Writing, Berlin, traveling. It does not require much energy. It is just like a game. Take for example now. The scent of my cortado is mixing with the salty sea breeze and the pleasing temperature of a glorious November day. With my feet in the sand of the Playa de San Miguel in Barcelona, I am writing.
Today, I have skipped all the touristic attractions that Barcelona has to offer. Now is not the time for a stroll on Las Ramblas or through the Barrio Gotico. Now is not the time to walk up to the Güell park or the Sagrada Familia.
Now is the time for the waiting game.
At one of the outdoor markets along the sea, I have bought a hand-made bag and then continued my solitary walk, attracted by the music of the Los Latin Panas, the Spanish band playing in the street - La bailan en Cartagena, en Berlin y en Barcelona, porque la Cumbia emociona.
Looking at the Yachts docked at the Barcelona waterfront, I have enjoyed their happy music together with a mixed crowd of tourists and Barcelonís. But it is only an instant. The sea is my final destination.
Naples, Miami, Cartagena, the sea, regardless of its many names, has always been, always is, and always will be - The Invincible Sea.
It may rain, snow, it may shine, but The Invincible Sea is there, repeating the same rhythm since the beginning of time: It goes - Waves - and always comes back. As if every sea drop had received the instructions of what to do - It goes, waves, and always comes back.
Regardless, forever.
While I experience this ancestral canon, the waiting game falls apart.
The thing is: No day is an ordinary day these days.
I have studied, I have written I have started from scratch and rewritten my text so many times I have kept writing for about five years - No matter what. researched and discovered. right into my fears. I have cut down from 180.000 words to 80.000. until I have thrown up. I have edited, polished, read and read it again.
I have done my best. I cannot do much more than that.
Then one day, not that long ago, I have submitted my manuscript to the world.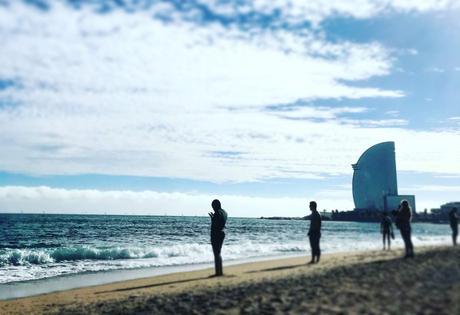 patienT, Like the Sea
Everybody is waiting for something - For a letter to be sent, a decision to be made, a new season to come, for someone to say: "Great job. Your novel is accepted."
Patience, I repeat to myself.
Somewhere I have read that patience is a writer's most important virtue; that patience is concentrated strength.
This is not just true for writing. It is true for everything that is alive, that mutates and changes.
"Have faith, be patient," says The Invincible Sea with its suave and perpetual motion.
It is just in my thoughts - I am sure, but I hear myself asking: "What is patience?"
With its waves caressing the tips of my feet, there on the beach crowded by tourists, some protected in their coats, others daring the temperature of its waters, the Invincible Sea answers: "Patience is the spiritual space between your emotions and your actions."
Patience is one of the most important virtues in life because no patience means: constantly escaping the moment - The next will be better, will give us an answer, will make us feel good.
Rushing to the next moment is not a successful strategy, though. If you extrapolate this attitude to the length of your life, having no patience then means: to drag your life straight into your death.
one day you Will miss today
This is so true. It is true for a painful day, for a happy day, and for a day of waiting.
Let's not rush then, let's learn from The Invincible Sea.
It goes, waves, it always comes back. In this rhythm hides a steady point. A still place. The place of the patient.
On that Barcelona beach, there I dwell, in the place of the patient, serenely waiting for my cortado, for a new season, and for that letter.
Great job. Your novel is accepted.
All photos were taken during my trip to Barcelona.
Check more on

Thank you for reading this article. I hope you liked it!
Help me share it