"She's created a new character. I was really impressed. I've only really seen her as (the human) Bella so to have her step up and

change it

in the right way - she didn't have to talk to me. She knew. She knows the character so well now. She has really good instincts and, she looks amazing."(movieweb.com) says Stephanie Mayer.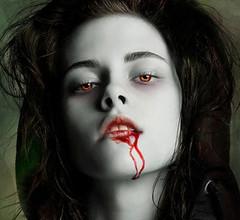 In Breaking down part 1 of the  Twilight saga , Bella is transformed into a vampire by Edward after nearly dying giving birth to their daughter, Renesmee Cullen, a vampire-human hybrid. Bella is the daughter-in-law of Edward father and Elisabeth , as well as the adoptive daughter-in-law of Carlisle and Esme cullen . She is the adoptive sister-in-law of Alice,Emmet, Rosalie and Jasper.
As a human, Bella possessed a natural immunity to the vampires As a human, Bella possessed a natural immunity to the mental powers of vampires. After her transformation into a vampire, she develops it into the ability to project a mental shield which she can use to protect others from the psychic powers of other vampires. At the end of Breaking Dawn, she has become the vampire that changes the world of vampires.( www.twilightsaga.com)
This is the most fascinating part of the movie and  of the book first ,I am talking about the deep complexity and charme of Bella charachter as a vampire. She does not lost her humanity but in a certain way she did not trasform   in a commun vampire . The strange power she had as human , a natural immunity to thr vampires will become needfull to save her family.