Finmeccanica, Lorenzo Fiori talks to TgCom24: experience, innovation, values and team spirit to counteract the negative conjecture facing the group.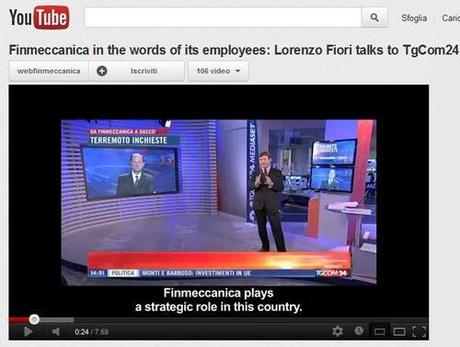 Luca Rigoni:
Let's talk about Finmeccanica, irrespective of the investigation; Finmeccanica plays a strategic role in this country. It has been portrayed as a company that, amongst its products, sells arms abroad and therefore considered as operating in areas where the boundaries are often blurred. Could you outline the many sectors in which the company is operating?
Lorenzo Fiori:
I want to defuse the perception of Finmeccanica created by the media. Of course Finmeccanica operates within the world of aerospace and defence, it has grown and been confirmed as leader within these sectors, acquiring more visibility. However Finmeccanica is a company that creates products and develops technologies that make up part of our everyday lives. I could give you many examples, including the image projected behind me, which I believe depicts air-traffic control, where we provide a technology that is used in many countries throughout the world. I can also tell you about railway signalling, every time we take a train around the world the secure signalling systems that let us travel safely are made by our company Ansaldo Segnalamenti.
I could talk about Space, a sector in which we excel, and so many other things that we do for the good of the country, which are never brought to light and I am pleased to have the opportunity to do so here as well as to highlight the strategic value that Finmeccanicarepresents, particularly to this country, allowing it to grow and be confirmed as a player in international markets.
Luca Rigoni:
So, you operate in many different areas, as you explained, in which you excel in technology, You are in charge of that sector, in your opinion, why has Finmeccanica been under attack recently?
Lorenzo Fiori:
Finmeccanica today is an international company operating globally, which has a heritage of technology that covers sectors other than aerospace and defence: areas such as security, transport and energy, which together create important synergies and a range of capabilities that we can offer to new customers who require solutions that can improve quality of life. An example of this is the so called "Smart Solution" which we are working hard on and through which we can configure our technology in order to offer better solutions to our customers.
This is clearly of interest to our competitors who hope to be successful in their own markets, where we are also operating.
Luca Rigoni:
Who are these competitors, can you be more specific?
Lorenzo Fiori:
Of course I am referring to large international Groups like ours. The competition in our sector is at an international level, competition no longer exists at a national level. Over that past decade we have become the national champion in Italy in space and defence, taking into account that we have a hugely important network of companies, therefore we are in all respects a system. We then also operate in the UK and the US where we have a strong industrial base, our mission is to develop technology and innovation. Over the last few years, I believe that we have given many more appealing examples of competitive innovation than our competitors.
Luca Rigoni:
How do you think these accusations against 
Finmeccanica
 will evolve? How will you re-launch your image despite the investigation?
Lorenzo Fiori:
Communications is not my field; however I can say that for the sector that I am in charge of, Technology and Products, our commitment doesn't double, it triples. If we have always needed courage in innovation then we will need even more to pursue innovation. If we were wise enough to reach our current position, we will try make better use of our technology and most of all, strengthen team spirit, which pervades all seventy thousand employees of the Group, who wish to see this Group grow and who want an end to the continuing rumours, obviously If there has been wrongdoing then it should be punished.
Despite all of this, the values of the Group, its expertise and its employees remain. I think that this is the best response in terms of communication. Perhaps a report about everything we have done and intend to do in the future would go a long way in re-establishing the right equilibrium to the image of Finmeccanica. I am very proud, I have worked at this company for twenty five years and I will continue to work hard because I enjoy it.
Luca Rigoni:
Yes I don't doubt that, I understand, but Finmeccanica is a company in crisis don't you agree? The company is doing badly financially is it not?
Lorenzo Fiori:
Yes that is correct, 2011 was a very difficult year when important decisions were taken by the management of the company in order to resolve problems deriving from very specific areas in the aeronautics and rail transport sectors, linked to specific contracts. These decisions were aimed at re-launching the Group because the market is increasingly more competitive. The quality and performance as well as the cost efficiency of our products is proof that this was the right path to take. We have an important order portfolio, a backlog of over two and a half years, and therefore I think this puts us in good stead to re-launch the company.
Luca Rigoni:
Ok, thank you for this important overview from Mr Fiori. 

Source: 
Finmeccanica Youtube Channel
Press Office Finmeccanica
Roma, Italy
http://www.finmeccanica.com
[email protected]
http://www.youtube.com/user/webfinmeccanica
http://twitter.com/finmeccanicaweb ----------------------------- Questa ed altre notizie le trovi su www.CorrieredelWeb.it - L'informazione fuori e dentro la Rete. Chiedi l'accredito stampa alla redazione del CorrieredelWeb.it per pubblicare le tue news.