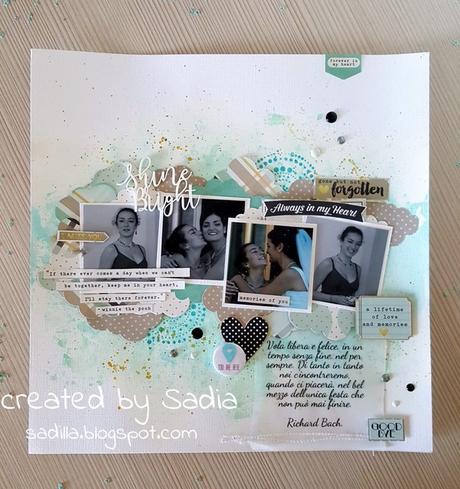 ciao mie belle amiche... amiche creative e non, benvenute... è stato un periodo molto pieno, di alti e bassi, di grandi e piccole fatiche, di gioie e dolori, di domande che per sempre resteranno senza risposta... di giornate lunghe lunghissime, che finiscono sempre col momento in cui vai a letto a fare i conti coi pensieri, che non sempre sono stati pensieri felici, e quasi mai spensierati... ma alla fine della fiera la mia considerazione è sempre la stessa: per fortuna ci sono le stelline, noiosa lo so... ma non avete idea della forza che mi hanno dato e mi danno...


hi my lovely friends, creative and not, you are all welcome, it has been a very busy crazy period, full of up and dawn, small and big things, joy and pains, full of questions will never have an answer...very long days ending always with the moment in which you are alone with your thoughts, which are not always easy and happy... but at the en all of this my mind is always the same: I am so lucky to have the 2 little stars... boring I know, but so real, you do note vene have an idea of how much strength they give me!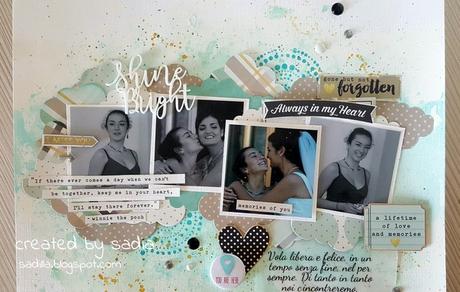 Questo Lo l'ho fatto più di un mese fa... forse due a dire il vero... ce l'ho li in stand by, lo guardo spesso, molto spesso, credo lo appenderò... ma non ero ancora pronta a condividerlo, ed  oggi finalmente eccolo qui.... e' un lo che racconta tanto di me, di questo periodo... 


I made this lo almost a month go, maybe 2... I have it in stand by, I often watch at it, probably I'll hang it on the wall, but I was not ready to share... today finally here it is... it is an accurate summary of this crazy period...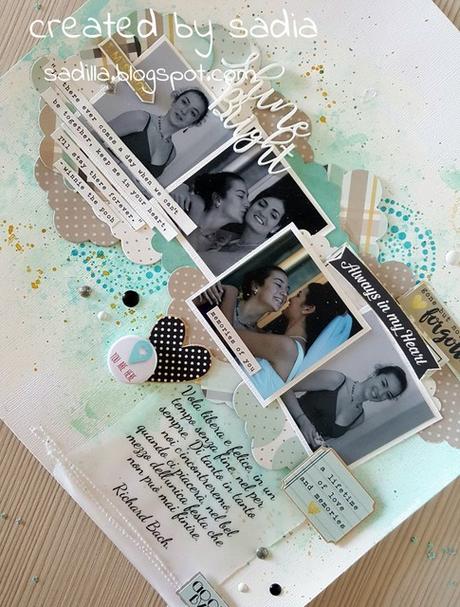 l'ho fatto per la mia sorellina, che come alcune di voi sanno ci ha lasciato... ci sono dolori che restano li incastrati nel cuore e pian piano devi metabolizzare, li devi accarezzare pian piano per ammansirli... per far si di riuscire a poter continuare a respirare 


I made it for my little sister, that as some of you knows passed away few months ago, there are pains which get stuck in the folds of the heart, and you need time to get over it, you need to stroke and understand it, before you can star breathe normally again....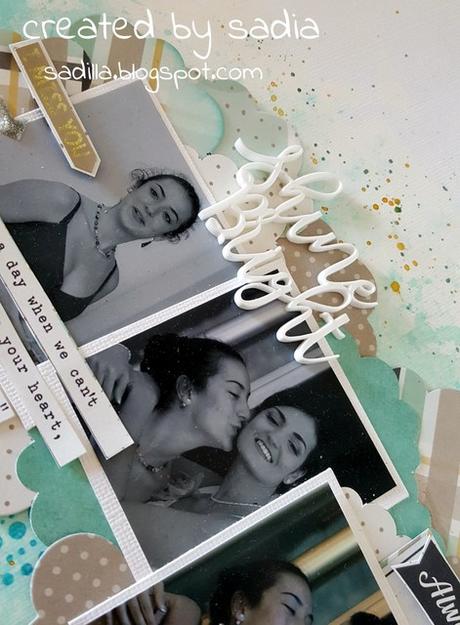 ho detto e ridetto mille volte ch lo scrap per me è come una terapia, un modo per far andare i pensieri e uscire le emozioni e così è nato questo Lo, dedicato a lei, che ha lasciato un buco nero nel mio cuore, che sto cercando di riempire di tutti i bellissimi ricordi che uno dopo l'altro lentamente tornano alla mente...


I said thousands time scrap is a sort of therapy for me, a way to let thoughts and feelings go free away, and so this Lo is made for her, who left a huge black hole in my heart, which I am trying to fill with all the lovely memories are slowly coming back to my mind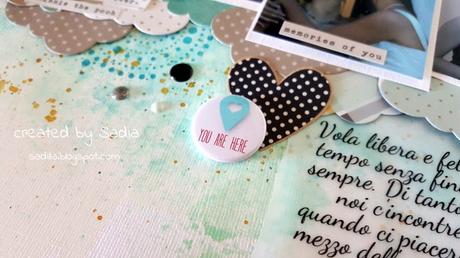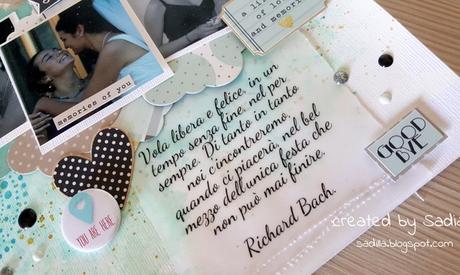 ora la immagino volare libera e felice in uno spazio infinito oltre lo spazio... e queste parole di Richard Bach esprimono appieno le mie emozioni...le ho stampate su vellum e cucite...


now i figure her flying free away, over time and space... and these words by Richard Bach were perfect for my page, I printed it on vellum and sewed...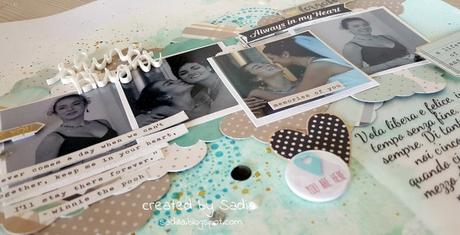 ho scelto per ricordarla delle foto di un momento spensierato e felice, un momento che porterò sempre nel cuore... delle foto del mio matrimonio, ma non di un momento qualsiasi, ma degli ultimi momenti prima di uscire da casa... avevamo passato la mattinata assieme, ridendo e scherzando, non ci vedevamo da un sacco perchè lei già stava all'estero, ma quella era stata una mattina tutta nostra, e di quel giorno oltre le ovvie meravigliose emozioni del matrimonio ricordo la mattinata come una perla preziosa nella collana dei ricordi.


I scrapped some picture of a very special moment, a moment I'll keep for ever in my heart, pictures of my wedding day, but a very special moment, the last moment before to go away from my mom home.... we spent the all morning together, talking and laughing, it was a wile we didn't stay together because sh already used to live abroad, but that morning was just perfect... it will be a special pearl on my necklace of memories....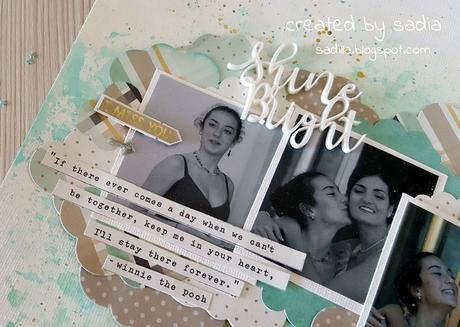 anche le parole di winnie pooh ci stavano a pennello, perchè lei ora sarà per sempre nel mio cuore, anche ora che me la immagino brillare e risplendere più che mai...


also the Winnie de Poh words were perfect... they were part of the paper collection, as now she will be forever in my heart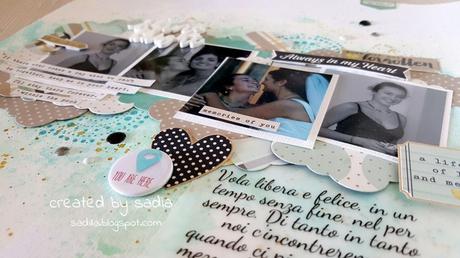 e per oggi è tutoo... perdonate il lungo post, ma oggi mi sono fatta prendere dai sentimenti! qualche info "tecnica" sul lo, la carta è simple stories, il fondo trattato con gesso acrilico e colorato con gli oxide, lo stencil è florilege... grazie per la visita, e a prestissimo!


and that's that today, excuse me for the long post, today I let myself be taken by emotions! some technical info: the paper is simple stories, the bazzil is colored with oxide, the stencil is florileges...

thanks for passing by, and see you soon back!