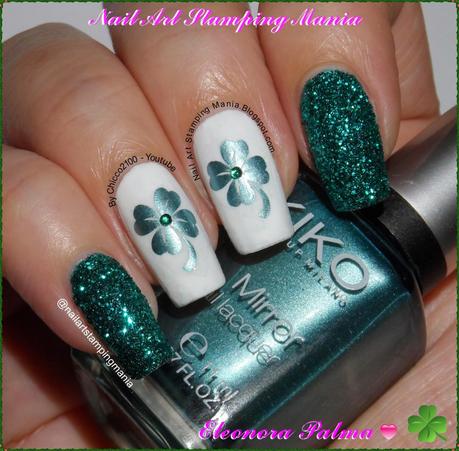 Hey there!  Here is my manicure for St. Patrick's Day!!! My friend Brittany from
UberChic Beauty
was very kind to send me a gift for this special day. It's  a sample of UberChic Beauty  Glitter Dust called Mermaid Cove. So, I immediately made this nail art with it!This glitter can be mixed into some drops your favorite nail polish, into some drops of your top coat or if you prefer into gel polish. It isn't solvent resistant, so,  you can't add it directly in a bottle of top coat!!!You can order it
HERE
I applied Kiko Mirror 625 over index finger and pinkie and Wet n Wild French White Crème over other nails. I
used
plate A02, which I purchased in a set and I stamped with Kiko Mirror 625 (I made some decals to perfectly center the four leaf clover on the nail).I later applied one layer of top coat and I immediately sprinkled the glitter onto index finger and pinkie. I removed the excess of glitters with a brush. Finally I applied the top coat only onto ring finger, middle finger and thumb and I added a green rhinestone over each four leaf clove!

Ehilà! Ecco la mia manicure per il giorno di San Patrizio !!! La mia amica Brittany di 
UberChic Beauty
è stata molto gentile da inviarmi un regalo per questo giorno speciale. Si tratta di un campione di UberChic Beauty Glitter Dust chiamato Mermaid Cove. Così, ho subito fatto questa nail art!Questo glitter può essere miscelato in qualche goccia del vostro smalto preferito, in alcune gocce del vostro rop coat  o se preferite in smalto gel. Non è resistente ai solventi, quindi, non è possibile aggiungerlo direttamente in una bottiglia di top coat !!!Potete ordinarlo
QUI
Ho applicato Kiko Mirror 625 sopra l'indice e il mignolo e Wet n Wild French White Crème sulle altre unghie. Ho usato la  piastra A02, che ho acquistato in un set e ho timbrato con Kiko Mirror 625 (ho fatto alcuni decals per centrare perfettamente il quadrifoglio sull'unghia)Poi  ho applicato una mano di top coat e ho subito cosparso i brillantini sull' indice e il mignolo. Ho rimosso l'eccesso di glitter con un pennello. Infine ho applicato il top coat solo sull'anulare, medio e  pollice e ho aggiunto uno strass verde su ogni quadeifoglio!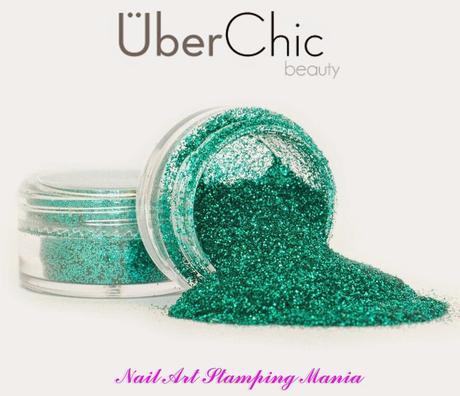 UberChic  Mermaid Cove - Glitter Dust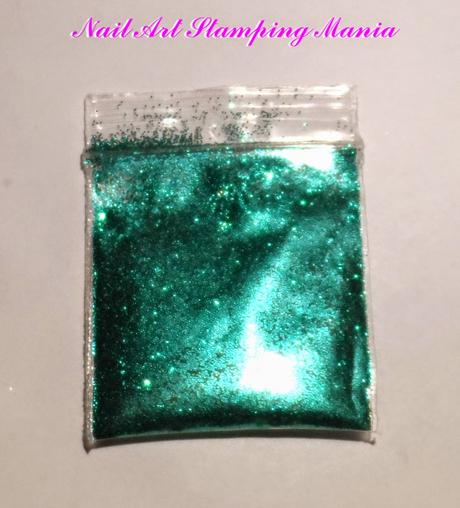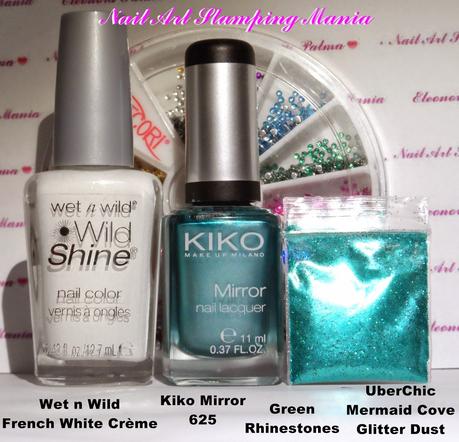 Wet n Wild French White Crème and Kiko Mirror 625, 
Kiko Mirror 625,
UberChic  Mermaid Cove - Glitter Dust and 
Green Rhinestones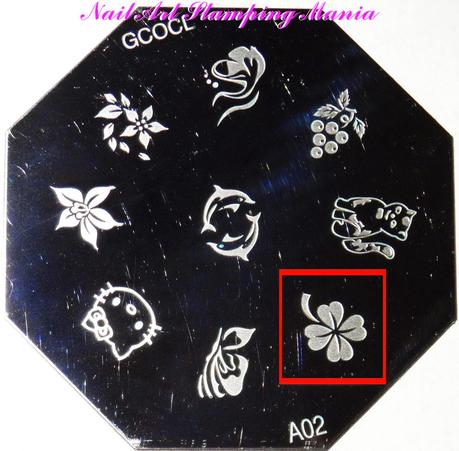 A02 Plate
Video Tutorial:                                       

What I used:

Cosa ho Usato:
Base: Layla Rocky Nail
Base Polish: Wet n Wild French White Crème and Kiko Mirror 625
Stamping Plate: GCOCL A02
Stamping Polish: Kiko Mirror 625
Nail Art Glitter: UberChic  Mermaid Cove - Glitter Dust (For ring finger and pinkie)
Nail Art Decoration: Green Rhinestones
Top coat:  Essence Quick Dry