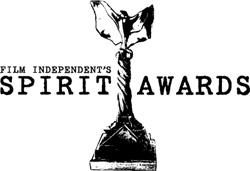 Quando si dice che un film piace proprio a tutti sembra un modo di dire, ma per The Artist é proprio così, il film di Michel Hazanavicius dopo aver dominato e vinto premi a Cannes, ai BAFTA, ai Goya, ai Cesar e ai Globe si é aggiudicato anche la maggior parte dei premi agli Indipendent Spirit Awards 2012.
Gli Indipendent Spirit Awards si sono assegnati oggi e riguardano il maggior premio internazionale assegnato alle piccole produzioni indipendenti, con sede a Santa Monica e presentati quest'anno da Seth Rogen hanno visto dominare ancora una volta The Artist.
The Artist ha portato a casa ben 4 premi tra i più importanti (Miglior Film, Miglior Attore e Miglior Regia) , bene anche Margin Call con tre premi e Paradiso Amaro con 2 premi a testa.
Di seguito potrete vedere tutti gli altri premiati, ma non dimenticate che domani (domenica) a partire dalle 23:30 su FrenckCinema potrete seguire la diretta streaming della notte degli Oscar dove anche in questo caso The Artist sembra il favorito assoluto.
MIGLIOR FILM
50/50 - Producers: Evan Goldberg, Ben Karlin, Seth Rogen
Beginners - Producers: Miranda de Pencier, Lars Knudsen, Leslie Urdang, Dean Vanech, Jay Van Hoy
Drive - Producers: Michel Litvak, John Palermo, Marc Platt, Gigi Pritzker, Adam Siegel
Take Shelter - Producers: Tyler Davidson, Sophia Lin
The Artist - Producer: Thomas Langmann. (V)
The Descendants - Producers: Jim Burke, Alexander Payne, Jim Taylor
MIGLIOR REGISTA
Michel Hazanavicius - The Artist. (V)
Mike Mills - Beginners
Jeff Nichols - Take Shelter
Alexander Payne - The Descendants
Nicolas Winding Refn - Drive
MIGLIOR SCENEGGIATURA
Joseph Cedar - Footnote
Michel Hazanavicius - The Artist
Tom McCarthy - Win Win
Mike Mills - Beginners
Alexander Payne, Nat Faxon, Jim Rash - The Descendants. (V)
MIGLIOR PRIMO FILM
Another Earth - Director: Mike Cahill
Producers: Mike Cahill, Hunter Gray, Brit Marling, Nicholas Shumaker
In the Family - Director: Patrick Wang
Producers: Robert Tonino, Andrew van den Houten, Patrick Wang
Margin Call - Director: J.C. Chandor. (V)
Producers: Robert Ogden Barnum, Michael Benaroya, Neal Dodson, Joe Jenckes, Corey Moosa, Zachary Quinto
Martha Marcy May Marlene - Director: Sean Durkin
Producers: Antonio Campos, Patrick Cunningham, Chris Maybach, Josh Mond
Natural Selection - Director: Robbie Pickering
Producers: Brion Hambel, Paul Jensen
MIGLIOR PRIMA SCENEGGIATURA
Mike Cahill, Brit Marling - Another Earth
J.C. Chandor - Margin Call
Patrick deWitt - Terri
Phil Johnston - Cedar Rapids
Will Reiser - 50/50. (V)
JOHN CASSAVETES AWARD - miglior film costato meno di $500,000.
Bellflower - Writer/Director: Evan Glodell
Producers: Evan Glodell, Vincent Grashaw
Circumstance - Writer/Director: Maryam Keshavarz
Producers: Karin Chien, Maryam Keshavarz, Melissa M. Lee
Hello Lonesome - Writer/Director/Producer: Adam Reid
Pariah - Writer/Director: Dee Rees. (V)
Producer: Nekisa Cooper
The Dynamiter - Writer: Brad Inglesby
Director: Matthew Gordon
Producers: Kevin Abrams, Matthew Gordon, Merilee Holt, Art Jones, Mike Jones, Nate Tuck, Amile Wilson
MIGLIORE ATTRICE
Lauren Ambrose - Think of Me
Rachael Harris - Natural Selection
Adepero Oduye - Pariah
Elizabeth Olsen - Martha Marcy May Marlene
Michelle Williams - My Week with Marilyn. (V)
MIGLIOR ATTORE
Demián Bichir - A Better Life
Jean Dujardin - The Artist. (V)
Ryan Gosling - Drive
Woody Harrelson - Rampart
Michael Shannon - Take Shelter
MIGLIORE ATTRICE NON PROTAGONISTA
Jessica Chastain - Take Shelter
Anjelica Huston - 50/50
Janet McTeer - Albert Nobbs
Harmony Santana - Gun Hill Road
Shailene Woodley - The Descendants. (V)
MIGLIOR ATTORE NON PROTAGONISTA
Albert Brooks - Drive
John Hawkes - Martha Marcy May Marlene
Christopher Plummer - Beginners. (V)
John C. Reilly - Cedar Rapids
Corey Stoll - Midnight in Paris
MIGLIOR FOTOGRAFIA
Joel Hodge - Bellflower
Benjamin Kasulke - The Off Hours
Darius Khondji - Midnight in Paris
Guillaume Schiffman - The Artist. (V)
Jeffrey Waldron - The Dynamiter
MIGLIOR DOCUMENTARIO
An African Election - Director/Producer: Jarreth Merz
Bill Cunningham New York - Director: Richard Press
Producer: Philip Gefter
The Interrupters - Director/Producer: Steve James. (V)
Producer: Alex Kotlowitz
The Redemption of General Butt Naked - Director/Producers: Eric Strauss, Daniele Anastasion
We Were Here - Director/Producer: David Weissman
MIGLIOR FILM STRANIERO
A Separation. (V)
(Iran) Director: Asghar Farhadi
Melancholia
(Denmark/Sweden/France/Germany) Director: Lars von Trier
Shame
(UK) Director: Steve McQueen
The Kid With a Bike
(Belgium/France/Italy) Directors: Jean-Pierre Dardenne, Luc Dardenne
Tyrannosaur
(UK) Director: Paddy Considine
PIAGET PRODUCERS AWARD
Chad Burris - Mosquita y Mari
Sophia Lin - Take Shelter. (V)
Josh Mond - Martha Marcy May Marlene
SOMEONE TO WATCH AWARD
Simon Arthur - Silver Tongues
Mark Jackson - Without. (V)
Nicholas Ozeki - Mamitas
TRUER THAN FICTION AWARD
Heather Courtney - Where Soldiers Come From. (V)
Danfung Dennis - Hell and Back Again
Alma Har'el - Bombay Beach
ROBERT ALTMAN AWARD
Margin Call - Director: J.C. Chandor. (V)
Casting Director: Tiffany Little Canfield, Bernard Telsey
Ensemble Cast: Penn Badgley, Simon Baker, Paul Bettany, Jeremy Irons, Mary McDonnell, Demi Moore, Zachary Quinto, Kevin Spacey, Stanley Tucci
Fonte: Badtaste