City: Saint Petersburg | Milan
Profession: Artist & gallery Art director
Web: http://www.oioioiartgallery.com   |    www.selfworld.it
Link:  http://francescoattolini.see.me/atts2012
1. In short, what do you do?
I live in Saint Petersburg from 2009
I'm art director and founder of the OIOIOI Art Gallery based in Moscow  and I have my Studio Atelier based in Spb.
I'm an artist, video artist and set designer quoted in 2008 by Hounce of Venison member of Christie and my works are included in many public, museal and private collections.
In 2011 I'm in the small restricted group of 4 italian artists whom partecipate in Venice and Moscow Biennale at the same time.
In the 2012 my work was exhibited in Timesquare during the amazing event called "Art takes Time Square" and in "Museo della Follia" in Matera curated by Vittorio Sgarbi.
In Saint Peterburg I'm use to organize event involving music, art, video art and beautiful people.I am all the people whom I met2.
How you can handle your work as artistic director with your work as artist?
The work of art director and the artist are very similar but also very different, definitely be an artist or a worker in the art world he facilitated the choice of artists of my team.
However, if there is passion in what you do nothing is complicated.
I love both, it's like every time to get married with "art", Life is definitely a work of art.
3. Talking about the art system, which are the differences between Russia (San Petersburg) and Italy?
It 'sa question of a million dollars. The world of art, I am sorry to say, but it is a world where often the most talented artists did not run and have success,
this happens not only in Italy, but I notice it all over the world day by day. If an artist nowadays has not behind him a big art gallery, a sponsor or an art foundation is almost lost. I would like to tell about what I think about Art in the world, I wrote a manifesto in 1999 and in 2012 will be published officially in my new web site in a final version written with Andrea Sartori…called Manifesto of Significativism.
The task of art. Art – is a complete form, connected together cause and effect, and because it was originally devoid of controversy, as opposed to religion, politics, polity and language, is infinite, which governs itself, discipline itself, and disciplining itself is expanding. The artist must learn and, given the continued ethical meaning of their activities, to analyze the social context of, for and within which it operates, together with the spiritual and emotional world of its inhabitants. Seismographic research area is one of the goals of the artist as he performs the product and the creator of the real and imaginary places. To successfully engage in creative work in an urban environment, the artist has to be moved by a feeling of love, harmony and respect for the great city, which in the classical tradition called the policy, ie ,a place ,where people interact with each other and with the architecture. Because it is ,in the public spaces,the urban life and all that distinguishes it from other forms of human coexistence,
reaches the most complete embodiment and declares publicly about a fundamental feeling of joy, sorrow, hope and delight. The artist explores the global disease of the city and society, and developing creative methods of healing, which aim to create an antidote and a vaccine against injury ,inherent in the people of big cities. Artist fights for the good of others, and his assessment helps to understand the importance of the surrounding area, he turned his attention to the places of the world that are often undervalued or unfairly notorious mainly as a reservoir of tension, fear and filth. The artist in this case acts in the role of healer, which encourages and fosters the reaction and the ways of expressing the civilization.
4.How do you choose an artist?
I don't know, I have not eligible criteria, I have to love what I see, art or artists, I have to be deeply touched by the artist before like a person. OIOIOI is a young gallery but with an enormous potential "OIOIOI" is a new art gallery with an original choice of artists from different countries. Its activities take place not only in Russia, and aim to spread all over Europe and US. "OIOIOI" is not only an exhibitions' site, but a universe comprehending a wide range of services for the system of contemporary art. "OIOIOI" wants to make available all the information about that what counts in art, and to provide the world of contemporary art with
all the services that it needs: from the educational ones to communication, promotion and marketing. At "OIO- IOI", people interested in the new waves of art and investors can find the artists and the evaluation's instruments which, together with the former, can give an added meaning to their collection and portfolio. This is why, besides the gallery, "OIOIOI" has a laboratory of ideas that contributes to put each exhibition it works at, and every artist it works with, in their
theoretic and practical context: the ROYAL FACTORY. By virtue of qualified master classes, seminars and workshops, "OIOIOI" art gallery presents itself to the public of art lovers and art buyers, as a dynamic organism always in contact with nowadays trends, and always aware of the roots and the reasons of the most recent movements or samples in art. In this way "OIOIOI" art gallery gathers together and unifies both art and life. The works of art showed at "OIOIOI", in fact, are never the
product of a talent or of a genius abstracted from a social context, but always belong — whatever original they are — to a world, to a complex system, which "OIOIOI" trans- lates in a language that is also available to everybody. At "OIOIOI", the excellence becomes a high quality product, which is showed and delivered to everybody who can appreciate it. "OIOIOI" goes beyond the border between art and life, art and style: with "OIOIOI", art becomes a matter of lifestyle, that everyone can experience in his or her individual life. after 3 years I have very grown, I did a lot of mistake but I really like my choose 99%. Now I think there are other italian artists ready for russian market in my "network" like: MAX PAPESCHI, ALICE OLIMPIA ATTANASIO, GIANMARIA GIANNETTI, ERIQUE LA CORBEILLE, PIERO MEZZABOTTA AND IN SYNC LAB.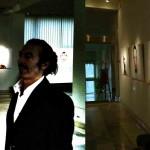 Mirror's Self portraits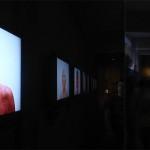 Self portrait

Time's Self portraits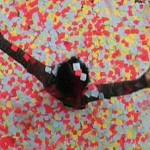 L'uomo esistibile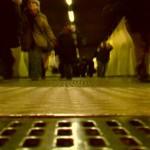 Galleria in Galleria, Il cammino giallo