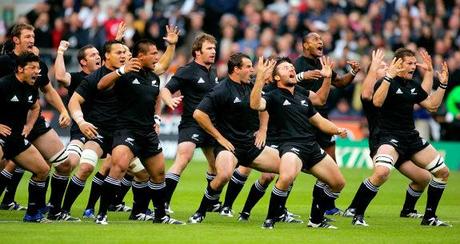 Chronicles from New Zealand, the column compiled by our friends from Wellington, AzzurriNZ, covering the World Cup and a tradition called rugby from a down-under point of view.
If you review New Zealand rugby over the years, you'd probably find success is the only true consistency. The will to win drives this country's passion with the game. There have been over 1000 players selected as All Blacks. The beauty of the All Blacks is that the tradition of the team transcends the memories of individual players. 
George Nepia, Dave Gallaher, Fred Allen, Colin Meads, Brian Lochore, Graham Mourie, Wayne Shelford and Sean Fitzpatrick were all great players. But they're remembered not just for their skills. For every All Black brings something special to the field. The ones that are remembered are those which are icons of different eras of success. Be it Nepia and the Invincibles of the 1920s, Mourie and the first grand slam tour of 1978, Fitzpatrick and the first series win on South African soil. These are the guys who played a significant role in the different chapters of success which make up the history of the All Blacks. 
So what are the things that have changed? 
1- The Jersey
The All Blacks have obviously always worn black. But the jersey has changed with the times. Moving from a shoe string collar to stiff white collar to no collar. Today's jersey embodies state of the art technology. It's not just a piece of cloth. It's a tight fitting weapon which helps players grip the ball and makes it impossible for opponents to grab them. 
It's not just the shape or the fibers of the jersey that have changed. So has the price. As in the price to supporters. Adidas have sponsored the All Blacks since 1999. The launch of this year's new-season jersey met a fanfare of criticism. It was released to the market with a hefty NZ$220 price tag (132€, ndr) . A 25-30% increase on the cost of the previous year's version. 
What made the price more offensive was that the All Black jerseys were available in other markets at a 40-50% discount. A number of New Zealanders latched onto this and ordered their jerseys from overseas based online retailers. Adidas' reaction was to prohibit licensed vendors from being able to export All Black jerseys to New Zealand consumers. 
Adidas' marketing maneuvers quickly transcended into being a PR disaster. Ex All Black Josh Kronfeld lead a 'recycle the jersey' campaign. Rather than purchase a new jersey, Kronfield's campaign encouraged supporters to wear an old-style top (a retrospective design). New Zealand's prime minister, John Key, saw it fit to also contribute. "I'd like to believe that New Zealand consumers get a fair deal and that they're not taken advantage of just because they're here in New Zealand." 
Adidas apologised for letting local fans down and acknowledged that it had "underestimated public attention on accessibility to fans of the jersey in a World Cup year." 
It's estimated the Adidas contract is worth $25-28 million per annum for the New Zealand Rugby Union. Adidas has to make its money back some way. 
2 - The Haka 
New Zealand's ethnic composition has changed over the years. In the 1950s, 95% of New Zealanders were of European origin (predominantly British). The rest were predominantly Maori, our indigenous people. Today New Zealand's population is considerably more multicultural. The All Black team reflects the changing composition of our nation. 
Many foreign observers wrongly assume the non-white players are imports from our Pacific neighbors. This is incorrect. Most of these players if not born here, went through our schooling system and learnt their rugby in clubs across the country. This Pacific connection is probably best illustrated with the fact that 15 members of Samoa's squad were born in New Zealand. Although it's always been performed since early times, more emphasis was placed on the Haka in the late eighties. This was mainly due to an initiative lead by inspirational No. 8 Wayne "Buck" Shelford. 
Shelford, a Maori in origin, demanded his team mates properly learn all the moves and words, and start synchronising their act. 
Since the Invincibles tour of the UK in 1924, the All Blacks have traditionally performed the Ka Mate haka. A war song composed by a fierce Maori warrior called Te Rauparaha. 
But even the Haka has changed. In 2005, Tana Umaga's All Blacks first performed Kapa o Pango, a haka specific to the All Blacks which includes the line "Ko Kapa o Pango e ngunguru nei!" or "This defines us as the All Blacks". The new haka was devised to better reflect the different ethnic influences that make up the All Black team. Derek Lardelli, who penned the new haka is of Italian ancestry. However he does not call himself Italian. Or European. He see's himself as Maori and that's what he proudly wants to be. Ka Mate is still the main haka. With Ko Kapa o Pango seemingly being reserved for special occassions. 
3- The Numbers 
More people in New Zealand play soccer than rugby. Rugby is our national game. But we don't play it, in the same numbers, like we use to. 
Many school children are opting to play soccer rather than rugby. Drop-off rates become more pronounced with older players. In Wellington, for example, many local rugby clubs use to field 10-11 teams. This would consist of 2-3 senior teams, 4-5 social teams, a presidents squad (30 years plus) and 2-3 aged grade teams (U21s and U19s). The competition to make the senior team was intense. With many clubs making the seconds and thirds was considered respectable. The club rooms were a hive of activity. Normally being full with players and supporters on most Saturday nights. Unfortunately only 2-3 bigger clubs would still have anywhere near that many teams playing every Saturday. A further sign of decline is that a number of clubs have surrendered their clubrooms electing to instead partner with local pubs to host club events.
There's still a good pool of talented players being developed in New Zealand. It's just not the participation sport it use to be. Clubs are no longer the development platforms they use to be. Stars are being identified at secondary school level and are pursuing accelerated development programs. In not making the top tier, many individuals are choosing to pursue other interests rather than play social or semi-serious rugby. 
Professionalism has made rugby a viable career option for young players. There is a huge number of New Zealanders playing rugby abroad. Whereas players would pursue overseas option in the twilight of their career, foreign clubs are now scouting and signing players of all ages. A final number to share (you may say), there are 38 New Zealand born players representing foreign countries in this year's World Cup.
@AzzurriNZ