leggi l'intervista in italiano
Lucy Orta was born in Sutton Coldfield, UK in 1966 and Jorge Orta was born in Rosario, Argentina in 1953. They founded Studio Orta Paris in 1991.
Lucy + Jorge Orta collaborative practice focuses on a number of sustainability issues tackling the ecological and the social factors to realise major bodies of work employing a number of mediums ranging from drawing, sculpture, installation, object making, couture, painting, silkscreen printing and Light Works.
Greeno is a laboratory which studies the shapes of the many-sided issue of the environment. It is an attempt to make different disciplines and experiences converge into a unique space, and to discuss the sense of contemporary speech on Nature. In your opinion, what possibilities can art bring to the research of new expressive canons to talk about environment?
Our project Perpetual Amazonia has a strong environmental stance and it is directly linked to rainforest conservation through scientific research being conducted on a one-hectare plot of rainforest in the Manú Biosphere Reserve. We had the opportunity to embark on an expedition to the Peruvian Amazon in 2009 with scientists from the Environmental Change Institute (ECI) at Oxford University and take part in data mapping exercises on the flora and fauna. After seeing the scientists' strenuous effort in such an inaccessible place for the benefit of humanity, we decided to dedicate one of our artworks to their research.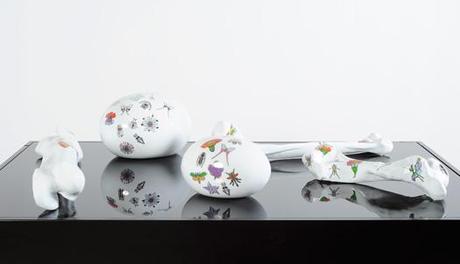 Amazonia Collection: Aepyornis, Gallimimus, Allosauraus, Palaeomastodon
Courtesy of Lucy + Jorge Orta
We selected a secondary rainforest plot at GPS coordinates S12 48 21.6 W71 24 17.6 within the Manú Biosphere Reserve, a UNESCO World Heritage site. This hectare was then divided into 10,000 square-metre subplots using the Universal Transverse Mercator (UTM) method of identification. We allocated an artwork to each subplot. To add a further political dimension, we have offered the artworks for sale, accompanied by a certificate of moral ownership corresponding to the coordinates of the designated subplot.
This project raises questions about how we value land: By how it makes us feel emotionally? By how much wealth it produces or the well being it brings to indigenous people? By its influence on the global climate? By what price we are willing to pay? The collector who acquires an artwork commits to transferring the moral ownership of the rainforest in perpetuity and to remaining dedicated scientific research for the benefits we all receive from long-term forest conservation.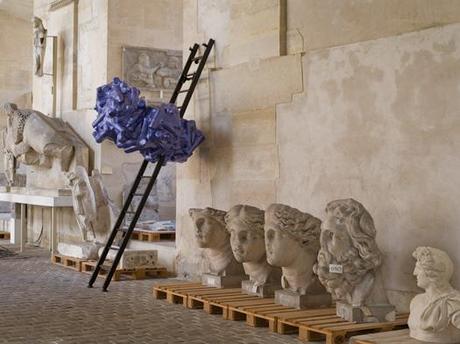 Clouds – Ascension ladder
Courtesy of Lucy + Jorge Orta
It seems like the contemporary textual productions (from advertising to politics) too often talk about the environment as a blurred and utopian dimension, thus turning it into a literary "non-place". Your artistic history and works, on the contrary, talk about territory, exact places and experiences. Can the ENVIRONMENT exist (and be told) without the idea of PLACE?
Antarctic Village – No Borders (1995-2012) is our most ambitious ongoing visual art project to date. It originated from an expedition to Antarctica in 2007 and, through subsequent art installations and public art projects addresses, issues relating to the environment, politics, autonomy, habitat, mobility and relationships among peoples.
The Antarctic continent has the most hostile climate conditions. It is the coldest place on the planet, with temperatures as low as -80° C. Its desert of ice is the largest in the world. No permanent human settlements exist there, and there is no native population. Yet, it is a wonderful nature reserve whose glaciers contain 80% of the fresh water of the planet and it is the only region on earth not claimed by any country and politically neutral. The Antarctic Treaty, first established in 1959 (the first peace treaty to be signed after the end of the Cold War) which now counts 49 signatory nations, has preserved Antarctica as an area for scientific research with common pacific aims, to protect the environment and to encourage international cooperation. It is a living example of Utopia.
Our Antarctica World Passport, a social engagement component of Antarctic Village – No Borders, draws from the principles of the Antarctic Treaty as the point of departure for a new world community. The treaty declares the continent a neutral common land, free of conflict, open to all peaceful peoples and a place for cultural and scientific cooperation. The 'Antarctica Citizenship', obtained on receiving an Antarctica World Passport, can become the basis for a compassionate new community.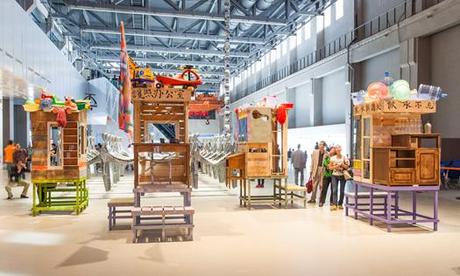 Antarctica World Passport Delivery Village Shanghai
Courtesy of Lucy + Jorge Orta
Your works (e.g. OrtaWater Project) are the real demonstration that art – besides being an idea on the world – can even be an idea for the world. Can you be called "social artists"?
Firstly we consider ourselves members of a community and we're affected by all kinds of problems our society is facing: loneliness, homelessness, forced migration, famine, water scarcity, climate change, etc. Secondly, as artists, we develop poetic patterns in an attempt to address these issues. Like Joseph Beuys we champion the notion that art can be a catalyst for social change. We believe that the creative potential of every individual no longer needs to be proven, it needs to be fully recognized and converted into initiatives that will engage even more members of the community.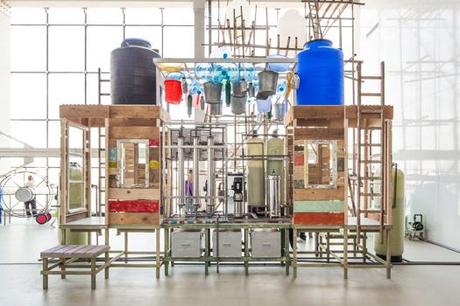 OrtaWater: Purification Factory Huang Pu river
Courtesy of Lucy + Jorge Orta
We find that all your projects, from Refuge Wear to Nexus Architecture to Antarctic Village, all follow a pattern. You said yourselves that your works can be considered as part of the same big project. What keeps them together? What comes to our mind are the words "identity" and "relation".
All of our projects including Refuge Wear, OrtaWater, Amazonia, Antarctica and HortiRecycling involve an interwoven research process that generally lasts approximately ten years. We have come to realise that it is not possible to research environmental issues without engaging with the social, so the overlapping nature of projects is crucial.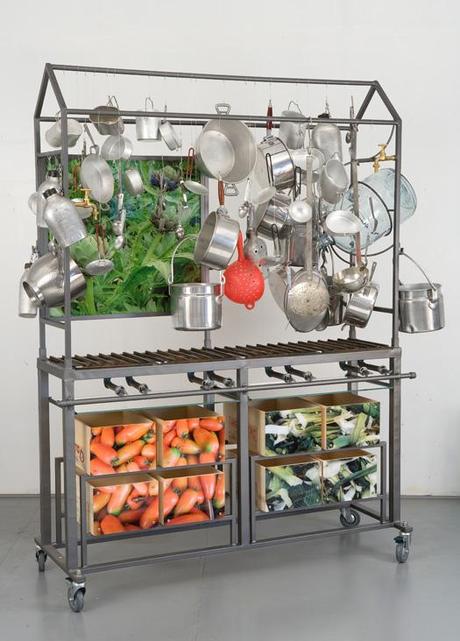 HortiRecycling – Mexican Kitchen
Courtesy of Lucy + Jorge Orta
The results of the research process range from public events, performances, conferences and workshops to co-creation, exhibitions and installations. These multiple formats, over long periods of time, strengthen the catalysis process. The poetic patterns and responses (including the sculptures and objects) resulting from these events are attempts to overcome and even resolve some of the challenges presented within the ecological, political, humanitarian and economic fields.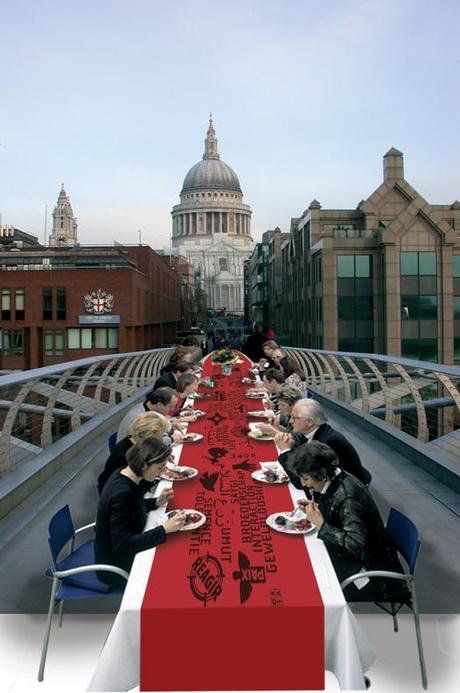 70×7 The Meal, act L City of London
Courtesy of Lucy + Jorge Orta
In the last years we have witnessed the development of new ecological thought amongst the new artistic generations, more complex and more explored. Have the artists changed or is the public changed? Neither the artists nor the public have changed. It has just taken all this time for the media to wake up and for museums to follow behind slowly.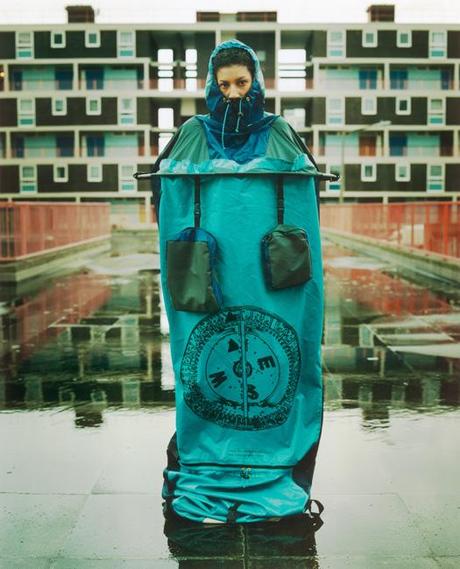 Courtesy of Lucy + Jorge Orta
What are your next projects?
We continue to actively exhibit in museums and biennials, where we can reach a very large and receptive audience. We have two or three exhibitions and public events every month all over the world, from the Southbank Centre England in 2012 to the Shanghai and Venice Biennales in China and Italy in 2013 and the Villette Paris in 2014. Next year will see the inauguration of a monumental public sculpture in London's St Pancras Eurostar terminal.
Over the past thirteen years we have been setting up a very ambitious project Studio Orta Les Moulins,
which spans over twenty hectares and includes several industrial buildings in the Seine-et-Marne region 30miles from Paris. Les Moulins has an inspiring industrial and environmental heritage: it sits in the Grand Morin river valley with abundant natural biodiversity and it is the historic birthplace of the French paper industry.
Les Moulins was founded thanks to an artist's vision and will be dedicated to sharing contemporary creation: residencies, collaborative projects, on-site commissioned works, production workshops and exhibition venues. Fate has given us a wonderful opportunity to design and finally implement our idea to create a cultural village.
We are keen to offer young artists the opportunity to live and work in inspiring surroundings, to share the adventure of art and to be confronted with all the challenges of a dedication to contemporary creation. We have founded a non-profit association to coordinate artists in residency and to commission artworks for the future sculpture park. We are landscaping and planting hundreds of trees so that the project perpetuates long after our time. This may be our most significant collective work: an open workshop and a living sculpture, true symbols of the fusion of art and life.
Lucy + Jorge ORTA