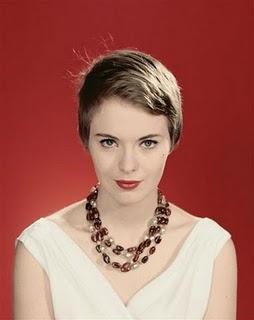 Jean Seberg - Our mascotte!
Readers got it right!
Apparently, the most loved post written by Zazie in her blog's history, is the one about girls having short hair. Being part of the category, I'm particularly proud and happy of this result. 
In a world where the standards of beauty are still anchored to the old, stiff idea that girls should have long hair (and possibly big bubs), Zazie's readers showed their modern, intelligent approach: the hair cut à la garçon is much, much loved! 
Here's a bunch of other movies (mainly indicated by my readers) to celebrate the fact that short hair girls can be gorgeous, funny, smart, sweet, brave, a bit crazy, sexy and very, very sophisticated. 
I also would like to celebrate the second anniversary of Le Blog de Zazie... ins't that incredible? Already t
wo years and it feels like yesterday that I started bothering you with my cinema obsession. 
Well, what can I say? 
I love you all, dear readers!
Zazie
Short hair girls are
:
NOT AFRAID OF ALIENS
Like Sigourney Weaver in Alien 3 by David Fincher (1992)
NOT AFRAID OF ALIENATED HUSBANDS
Like Charlize Theron in The Astronaut's Wife by Rand Ravich (1999) 

NOT AFRAID OF THEIR MOTHERS (WELL, ALMOST...)
Like Jamie Lee Curtis in Halloween H20 by Steve Miner (1998)
NOT AFRAID OF FALLING IN LOVE
Like Shirley MacLaine in The Apartment by Billy Wilder (1960)
or Like Mia Wasikowska in Restless by Gus Van Sant (2011)
AND NOT AFRAID OF BEING ABSOLUTELY FABULOUS!!!
Like Jean Seberg in Bonjour Tristesse by Otto Preminger (1958)