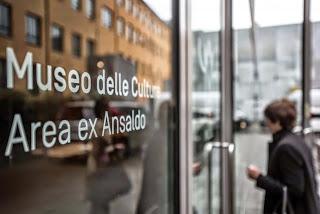 MUDEC - Museum of Cultures
A museum of knowledge for brotherhood among peoples
Even Milan has now its "Musée du quai Branly". A new half-private half-public institution has opened in Milan, in the Ex Ansaldo area, sponsored by both the municipality of Milan and 24 Ore Cultura. It is called MUDEC, an acronym for Museo delle Culture (Museum of Cultures). Its opening had been planned for a long time and the purpose is to gather many prestigious ethnographic collections, both private and civic, dating back to the 19th and 20th Centuries.
At last, the museum was opened and it now counts 7000 works: precious Japanese porcelains, Chinese lacquers, African masks, American clay idols, carpets, cloths, costumes and so on. The exhibition is equipped with cartographic and photographic documents of great value.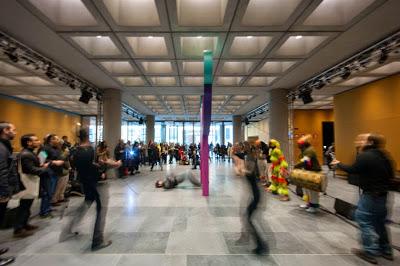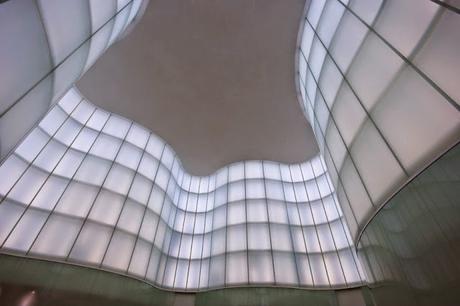 The new site was committed to he world-renowned English architect David Chipperfield, who planned a beautiful building of 17,000 square metres. Controversies arose about the building's floor, which apparently wasn't realized according to the original project.
But despite the controversies, the results seem good and ready to be presented to the public. Some parts of the exhibition coming from private collections are not open to the public yet. However, visitors and critics have been exploring the spaces and services, the collections of the permanent part of the museum and the first two collateral exhibitions which were realized for the inauguration. One is focused on Africa and its spirit in the production of art and objects. It is entitled "Africa, la terra degli spiriti" ("Africa. The land of spirits") and it is mainly centered on the topic of masks.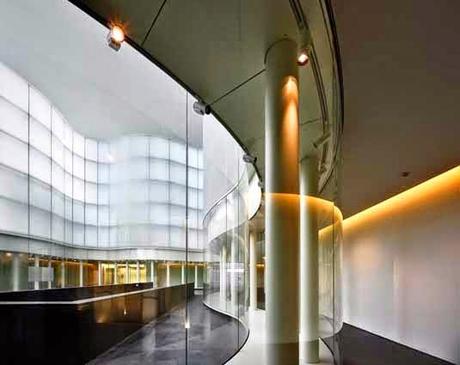 The other is dedicated to the historical international exhibitions that took place in Milan at the beginning of the new century. In their set-ups, especially in the exhibition of 1906, exotic elements appeared frequently: people were constantly looking for a characteristic style for that age, and they often referred to ancient epochs, to their styles and their connections with foreign cultures. These bonds had become real fashion trends, owing to an elite tourism which brought objects and collectible ornaments back home, as well as the first photographs.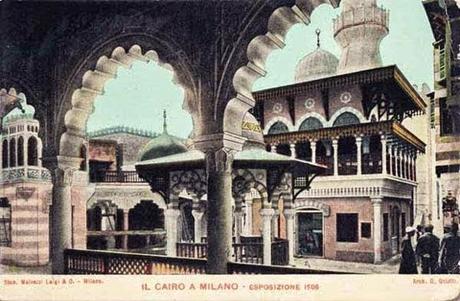 Foreign pavilions at the Universal Exposition of 1906 in Milan, in a postcard entitled "Il Cairo a Milano" ("Il Cairo in Milan").
The permanent collections of Mudec include objects, furniture, jewels, carpets coming from countries which were literally "worshipped" by European explorers, who hunted collectible "trophies" and didn't have any colonial aspiration. We would like to to mention Manfredo Settala, one of the most important collectors of the 15th Century, and his Wunderkammer, which is reproduced in the museum with 100 pieces divided into 3 sections: "naturalia", "mirabilia" and "exotica".
Some objects exhibited at MUDEC (from the top): African mask in painted wood and sorghum; a Knight in black wood from the Bamana Atelier in Segou, beginning of XX Century; "Headrest" from the Democratic Republic of Congo, end of XIX Century, in decorated wood with stone necklaces; stone case illustrating a dog, coming from eastern Asia, in varnished metal; cufflinks in wood and glass beads, Yoruba Atelier of Igbuke in Oyo, Nigeria, beginning of XX Century; African anthropomorphic pipe, in briar-root and ivory; statue for magic-religious use, in wood, fur, feathers, stone necklaces.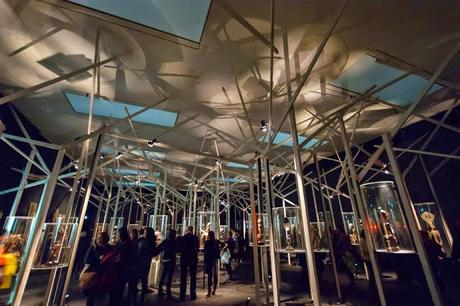 Set-up of the exhibition "Spirits of Africa" for the inauguration at MUDEC
(translated from Italian by Penelope Mirotti on May 10th 2015)