Sigma Makeup sent me, a long time ago, a brand new Kit: Synthetic Face Kit.
Unfortunately I got sick with acne issues and I didn't review them before… I apologyze!
There are 3 different kind of brushes…
Let's check them one by one:  I took the exact description from Sigma's website.
Precise makeup application under the eyes and around the nose.
Perfect for achieving flawless coverage using liquid and powder products.
Synthetic Sigmax HD filament.

Perfect for applying and blending liquid, cream, and powder products onto the skin.
The flat surface allows perfect buffing with flawless results.
Synthetic Sigmax HD filament.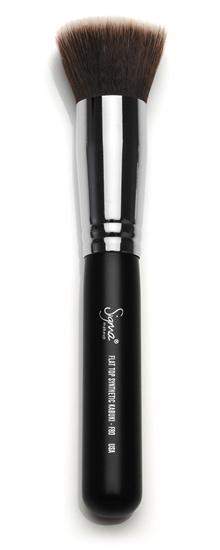 Perfect brush for precise, yet blended application of products on the cheeks.
It seamlessly applies cream, powder and liquid products.
Synthetic Sigmax HD filament.

My true opinion is simply this: I confirm their description word by word.
I was very impressed of how they apply mineral loose powders…especially blush.
It's so easy to clean them with a normal cleanser: as good as new!

I use them every day, since a month.
I find them excellent: soft bristles and a unique lightness.
I never tried something like this, until now.
Obviously we have to figure out the shipment from America, sometimes it's a big problem for Italian customers:
we have to pay lots of custom taxes etc.!
Share this on Facebook
Tweet This!
Share this on del.icio.us
Digg this!
Post on Google Buzz
Share this on Technorati
Get Shareaholic