When talking about male rings, there is not much to say: not because fashion guys do not love precious circles around their fingers, but because the range of choice is not so wide. Recently I wanted to buy something for me and I realised that, avoiding cheap brands (that always have a huge lack in both quality and design), what is expressly dedicated to men is not much.
In this post I will show you some rings that, in my opinion, can be a good compromise between style and masculinity.


Bulgari

's  B.Zero1 collection is appreciated worldwide for the way it unites two icons of the jewellery brand: the Tubogas from the Seventies and the BVLGARI BVLGARI logo. I think the best choice for men from this collection is the 3 bands ring; my favourite version is the one realised in 18kt pink gold.
Other alternatives could be the same style in white gold (even if white gold is more common and it periodically needs to be bathed in rhodium to restore its original colour), or the one with black ceramic (in my opinion this an extremely iconic ring, but on male hands it risks to appear almost hick).
- Prices: € 1050,00 for the only gold version, € 850 for the ceramic.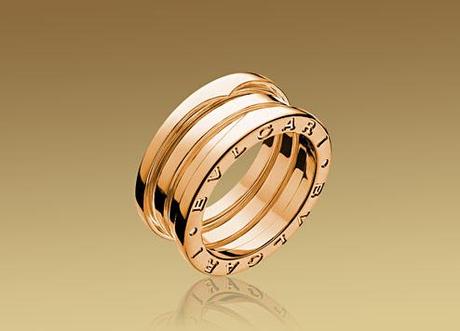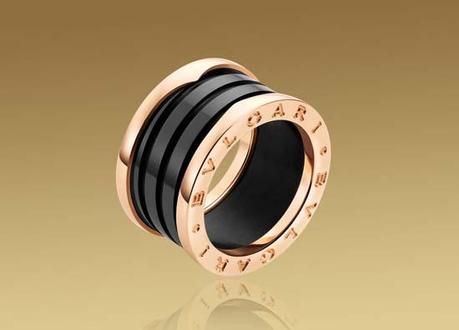 Something nice I saw on one of my friends' hand was the union of three

Pomellato

's Lucciole. Lucciole were originally conceived as small engagement rings, realised in 18kt and from 1 up to 12 tiny diamonds. A good combination of hues (i.e. 2 white + 1 yellow, 2 pink + 1 white, 2 black + 1 colour) creates a very elegant effect, and still appears masculine with a single diamond on each ring. Moreover, you could also play with the different treatments of the surface of the rings, since they are proposed both polished and satin finished.- Price: from € 265,00 / 300,00 for the version with a single diamond.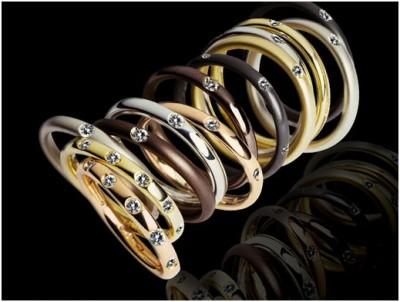 Looking at fashion houses, something nice can be found at

Alexander McQueen

. If you love his decadent style, you will surely appreciate the Twin Skulls Ring, presented every season in a variety of variants and finishes. The only thing you must remember if you are planning to purchase one is that it only exists in a unique size, so be sure that it fits the finger you want to wear it on.- Price: between € 135,00 and € 150,00.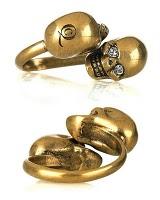 Ugo Cacciatori

is a jewel designer known for his gothic/rock style. His male creations are perfect for a man with a strong attitude, not to say a dark side. Cacciatori's jewels are usually realised in burnished silver, sometimes with coloured stones; they can be found in multibrand boutiques like Antonioli and Luisaviaroma.- Prices: starting form about € 100,00.