Nella giornata di ieri, è stato rilasciato a sopresa il Jailbreak Untethered di iOS 7.1.1, da un team cinese, a sua volta il rilascio, ha preso di sorpresa anche tutti gli sviluppatori di tweak, in questo articolo che sarà in aggiornamento grazie a voi, ci sarà la lista dei tweak testati e funzionanti, parzialmente funzionanti e non.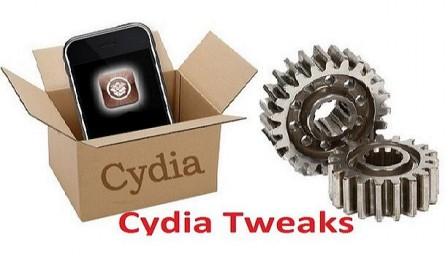 Nella giornata di ieri sera, un team cinese, ha rilasciato pubblicamente il
tool
per eseguire il
Jailbreak Untethered di iOS 7.1.1
, il rilascio ha preso di sorpresa anche gli sviluppatori dei tweak su Cydia, ecco perchè in questo articolo, grazie a voi e ai vostri commenti, ci sarà la lista in continuo aggiornamento, dei tweak funzionanti, parzialmente funzionanti e non.
Alcuni tweak, già sono stati testati su iOS 7.1.1 e questi che vi dirò saranno funzionanti :
2×2 Folder Icons
3G Unrestrictor 5 (iOS 7 & 6)
Accelerate
Activator
Ah! Ah! Ah!
Airblue Sharing Vers. 1.5.1 Aggiornato
Alkaline
Almpoum
AltKeyboard 2 (iOS 7) Vers. 1.0.7
animate
Animate fix for iOS 7.x.x
Animer7
AnyAttach Vers. 1.4-4
Apex 2 (iOS 7) Vers. 1.0.9
App Activate
AppInfo
Apple File Conduit "2″
Applocker
Appro
Aria
Arise
ArrangeStatusBar
Asphaleia Vers. 1.0.4-31
AttachmentManager
auki
Australian BOM Siri Weather
AutoOK7
AutoTouch for iOS 7
Auxo 2 (iOS 7) Vers. 1.2.3

Aggiornato

Background Manager
Badge Customizer
Badger 7
Barrel
BatteryLife
BetterNC7
BetterPasscodeKeypad
BioProtect
biteSMS
BlueBoard
Bluepicker
Blur Remover
BlurredMusicApp
Boover
BounceNotify
Bridge
BrightVol
BTC Mouse & Trackpad
Burst mode
BytaFont 2
Call on GV Pro
CallBar
CamBlur7
CameraTweak 2 (iOS 7)
CamVolZoom
CC Deseparator
CCBackground
CCControls
CCHide
CCMeters
CCSettings
CCSystemStatus
CCToggles
ChargingHelper
Chip
Chrome Downloader Plus
ClassicBadges
ClassicLockScreen
Clear Background Apps
Clear Background Apps
CleverPin
Clipshot
Cloaky
CloseAll
Color Profiles
ColorBadges
ColorShot
Coono
Copic
Core Utilities
Core Utilities (/bin)
CryptoNotes
customLS
Cybernetic
CyDelete7
Cydget
Cydia
Cydia Substrate
Cylinder
Dated
Decode Camera For iOS7
Disable Parallax Effect
Disk Pie
DisturbPlease
DockShift
DockWare
Drunk Mode
DynamicText
EASimulateTower
EASimulateTowerLight
Eclipse Vers. 1.3-1 Aggiornato
f.lux
f.lux Flipswitch
FakeCarrier
FakeMyLocation7
FlagPaint7
Flat Notes
Flex 2
FlipControlCenter
Flipswitch
FolderCloser
FolderEnhancer (iOS 7)
FolderSwipe7
FrontFlash
FullFolder
Fullimage
FullKarma
Giffy
GIFViewer
GmailSender
Gremlin Framework
GroovyLock
HapticPro
HASHBANG Productions Common
HiddenSettings7
HiddenSettings7 Icon
HiddenWallpapers
HideMe7
HUDDismiss
HudSlider
iCaughtU
iCleaner
iCleaner Pro
IconSupport
iFile
iMessage Unlimited Media Send
Infiniboard
Infinidock
Infinite Tweet 2
InfoHider
Inform Me
Intelliscreenx7 Vers. 7.10.5 Aggiornato
ipEQ for iPhone
iTouchSecure
iTransmission 4
JellyLock7
KeyShortcut
KeyShortcut Pro
Knock
LastApp
LastPic
LinkOpener
LinkStore Vers. 1.1

Aggiornato

Grazie alla segnalazione di Paolo Cerra
LocationFaker
LockHTML3
LockInfo7 Vers. 7.0.6-27
LockPages
Mail Enhancer Pro iOS 7
ManualCorrect
MapsOpener
MesaVibrate
MessageHeads
MobileTerminal
MoreInfo
MultiIconMover+
Möbius
NCAllOnly
NCObey
NCWeather
NetworkList
NewTerm
NextGenUI
Nightmode
No Yahoo!
NoNearMe
NoPageDots7
NoSlowAnimations
NoSpot iOS 7
NoStatusBar
NotesCounter
Notification Privacy
NoVoiceMail
NowPlayingStatusBar for iOS 7
OneByOne Contacts
Opener
OpenSSH
OpenSSL
Orangered for iOS 7
PandoraSkips
Parallax enaBlur
Phantom for Snapchat
Photo Booth (iOS 7)
Platinum
PocketMode 2
Polus Vers. 2.0.2-1

Aggiornato

Poof
PredictiveKeyboard
PreferenceLoader
PreferenceTag
Priority Hub
PrivateSMS
ProTube
ProximityCam
Purge
QuickActivator
QuickPass
QuickShoot Pro 2
Random Icon Flip
Record 'n' Torch
Remote Messages (iOS 7)
ResetAllKiller
RightX
RocketBootstrap
roqyUSB7
RotateVideo
Safari Downloader+
Safari Resetter
Safari Upload Enabler Vers. 1.4-5
SafariTabCount
SameStatus
SaveGram
ScramblePass
ScreenDimmer
SearchLoader
SelfDestruct
ShowCase
Sicarius Vers. 0.0.2-1 Grazie alla segnalazione di Leonardo Martina Marchi
SilentMode Switcher
SimplePasscodeButtons
SkipLock
SleekSleep
Slide2Kill 7
SlideCut
SlideForUsage
SmartTap
Snapper
Snooze
Software Update Killer
Spectral
Speed Intensifier
Speedy Homey
Spin
SplitMail
SpotDefine
SpotLock
Springtomize 3 – iOS 7 Vers. 1.1.2-1 Aggiornato
SPTouch
SSH Connect
SSHMediaControls
StatusHUD 2
StatusModifier
StatusPeek
Stealth Cam
Still Capture Enabler 2
StopAlarm
StopCCinApp
Substrate Safe Mode
SwipeSelection
SwitchSpring
SysInfoPlus
Syslog Flipswitch
syslogd to /var/log/syslog
TapToUnlock7
TetherMe
TetherStatus
TimeForAlarm 2
TinyBar
top
TransparentCameraBar
TransparentDock
TransparentVolume
UK Siri Weather
unBold
Uninstall Application Size
UnlockSound7
Untrusted Hosts Blocker
Vertex
Video Zoom Mod
VideoPace
Virtual Home
Volume Step
Wake With Weather
WeeTrackData7 for Notification Center
WhatsPad
WiFi Booster
WiFi Passwords
WinterTerminal
xCon
YouTuber
Zeppelin
Qui' invece la lista dei parzialmente funzionanti :
Activator
Blurfolders
Five Icon Dock
Hold2Speak
Nitrous
NoteCreator
PkgBackup
SBSettings
Veency
Quì invece la lista di quelli non funzionanti :
Action Menu
Action Menu Plus Pack
ActiveBoard
Adblocker
afc2add
Browser Changer
Bulb
Cloaky
Dimmer
Discreet
f.lux Flipswitch
FolderIcons
Knowy0urCallActive
NoNewsIsGoodNews
PasswordPilot
Phontact
PhotoTorch
ProWidgets
Reminders Pro
SameStatus
Stride 2 (iOS 7)
Stumbler Plus
Videopane
Vi ricordo che grazie a voi e al vostro supporto, questa lista sarà in continuo aggiornamento.
Se anche voi, volete aiutare la comunità a sapere quali tweak sono compatibili con iOS 7.1.1, lasciate i vostri commenti.
In oltre, chi ha eseguito sul proprio dispositivo il Jailbreak di iOS 7.0.x, può controllare la lista dei tweak testati e funzionanti da Quì.
L' articolo Tweak iOS 7.1.x – Lista di quelli funzionanti, parzialmente e non -Aggiornato 14.07.2014 Lo Trovate su TUTTO NEWS - CYDIA & JAILBREAK.