The Great Depression 
1929 –1941
Global economic crisis
Numerous bank failures and factory closures sparked by the 1929 NY Stock Market crash
1 out of 4 workers unemployed at a time when most families survived on one income
Dramatic drop in industrial production
1931 drought, wind storms and over farming turned the Great Plains into the Dust Bowl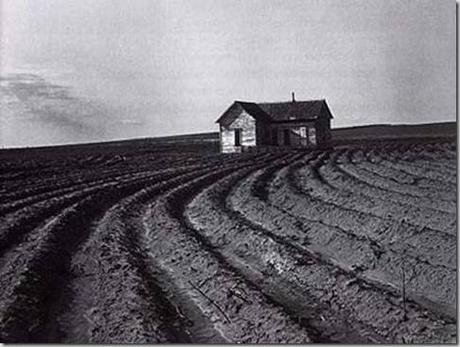 Dorothea Lange. Tractored Out, Childress County, Texas. 1939.
The New Deal
1933 – 1937
Direct relief, economic recovery and financial reform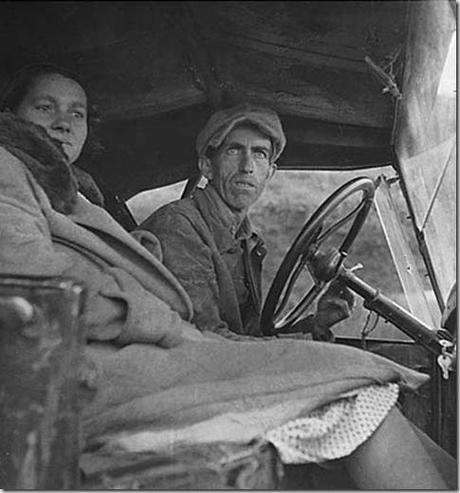 New Deal programs oversaw loans, flood control, migrant camps, agricultural education, work relief and the creation of the social security system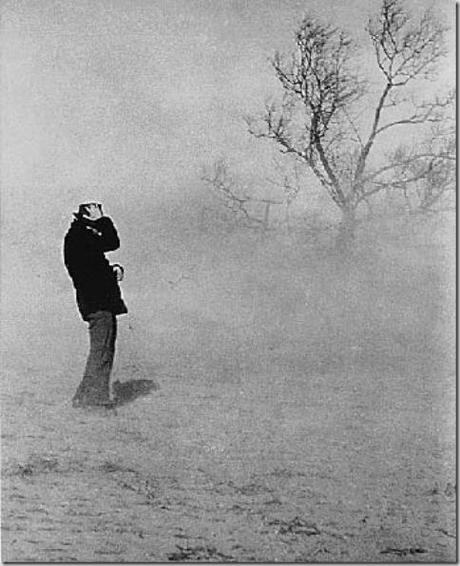 FSA.  Man in a Dust Storm.  c. 1935. http://history1900s.about.com/library/photos/blygd20.htm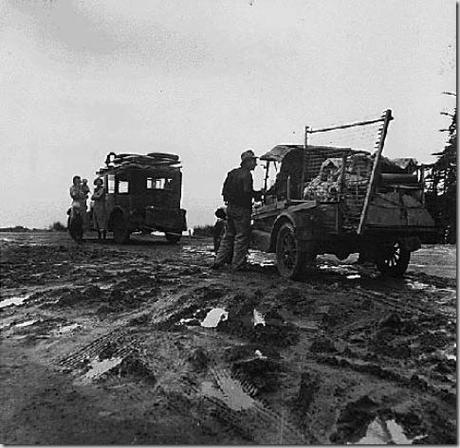 FSA.  Families on the road with their possessions.  c. 1935.http://history1900s.about.com/library/photos/blygd42.htm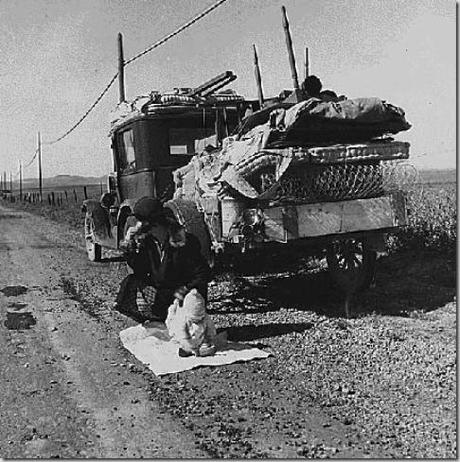 FSA. "Okies" driving to California on Route 66.  c. 1935. 
http://history1900s.about.com/library/photos/blygd14.htm
Dorothea Lange
1895 -1965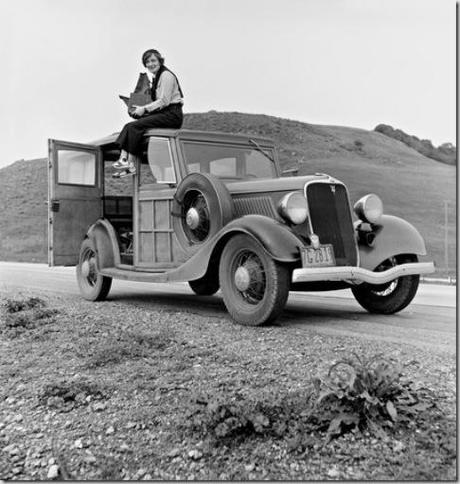 Dorothea Lange
http://www.dorothealangephotos.com/images/070316201143_dorothea_lange_on_top_of_a_car_LG.jpg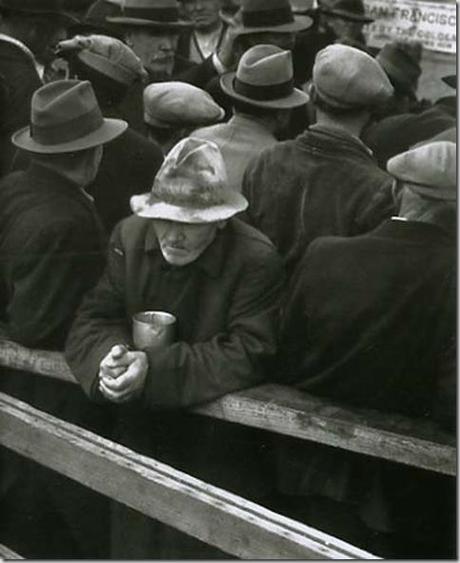 Dorothea Lange. White Angel Bread Line. 1933.
20th Century Photography Museum Ludwig Cologne. Taschen, Koln, 2005.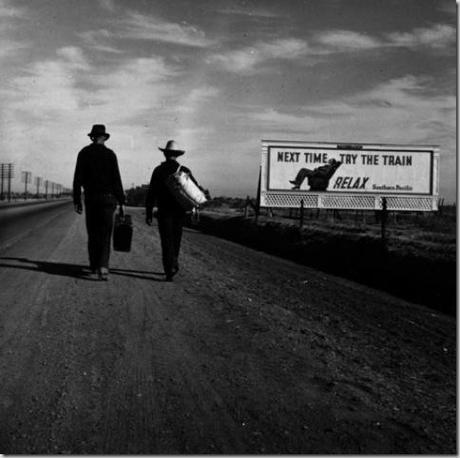 Dorothea Lange.  Men Walking Towards Los Angeles.  c. 1935.
http://www.dorothealangephotos.com/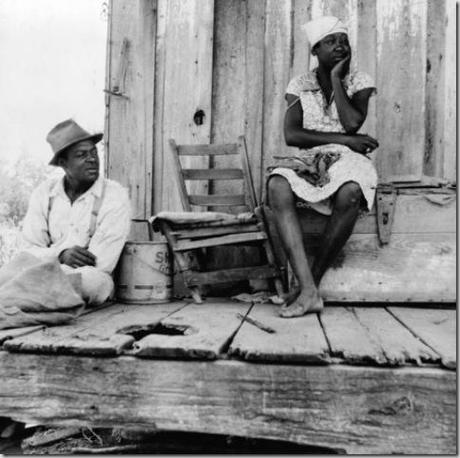 Dorothea Lange.  African American Sharecropper.  c. 1935.
http://www.dorothealangephotos.com/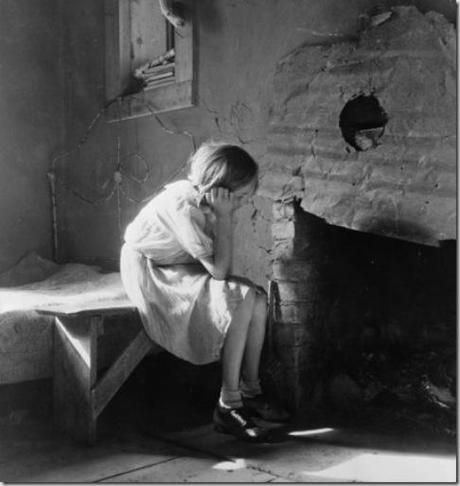 Dorothea Lange.  Girl sitting on a bench.  c. 1935.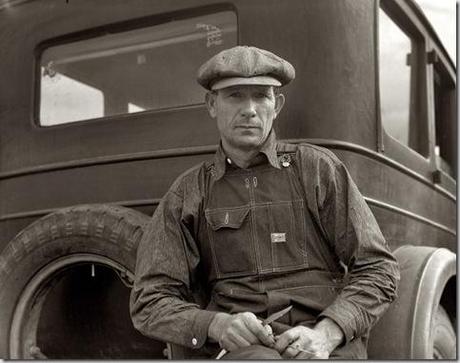 November 1936. "Drought refugee from Polk, Missouri. Awaiting the opening of orange picking season at Porterville, California."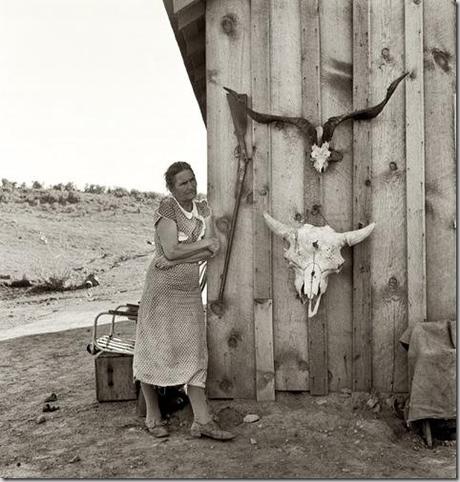 October 1939. "Mrs. Sam Cates, wife of Cow Hollow farmer. Malheur County, Oregon."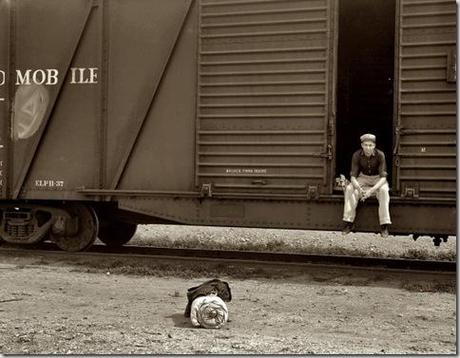 February 1939. Calipatria, Imperial Valley. Car on siding across tracks from pea packing plant. Twenty-five year old itinerant, originally from Oregon. "On the road eight years, all over the country, every state in the union, back and forth, pick up a job here and there, traveling all the time."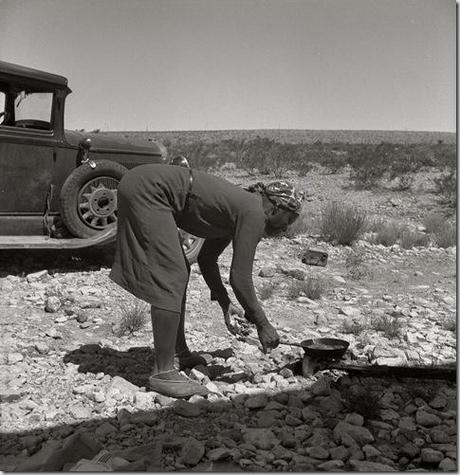 June 1938. Outskirts of El Paso, Texas. "Young Negro wife cooking breakfast. 'Do you suppose I'd be out on the highway cooking my steak if I had it good at home?' Occupations: hotel maid, cook, laundress."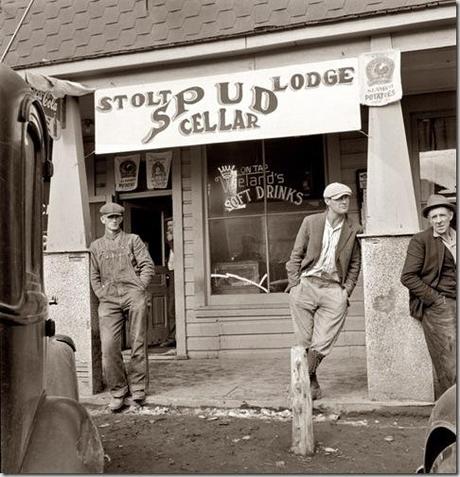 October 1939. "Tavern on main street of potato town during harvest season. Merrill, Oregon."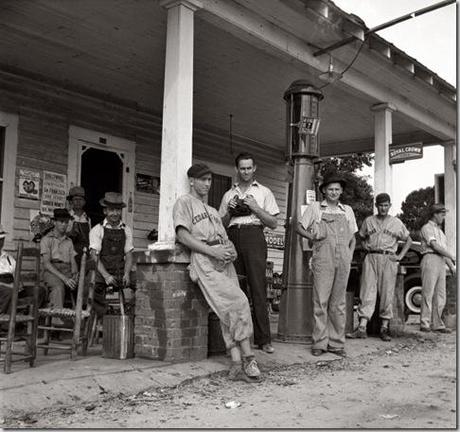 Fourth of July 1939 near Chapel Hill, North Carolina. Rural filling stations become community centers and general loafing grounds. Cedargrove Team members about to play in a baseball game.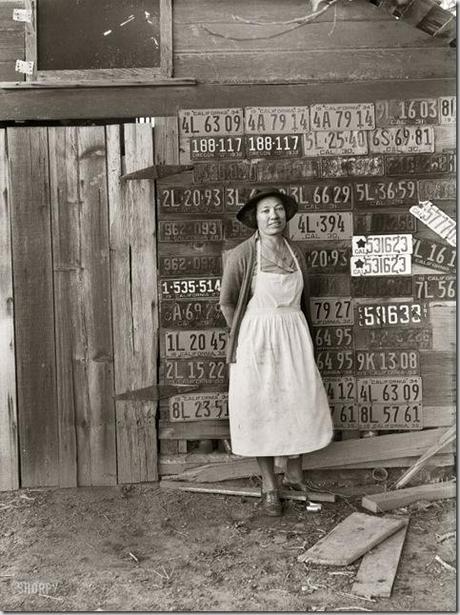 November 1938. "Farm woman beside her barn door. Tulare County, California. No more horseshoes!"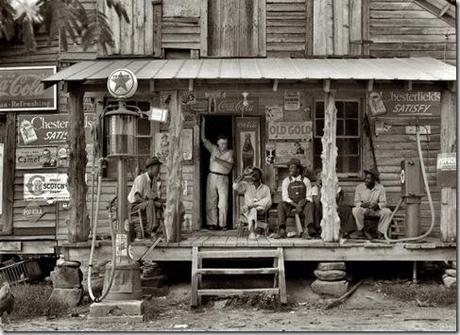 July 1939. Gordonton, N.C. "Country store on dirt road. Sunday afternoon. Note kerosene pump on the right and the gasoline pump on the left. Rough, unfinished timber posts have been used as supports for porch roof. Negro men sitting on the porch. Brother of store owner stands in doorway."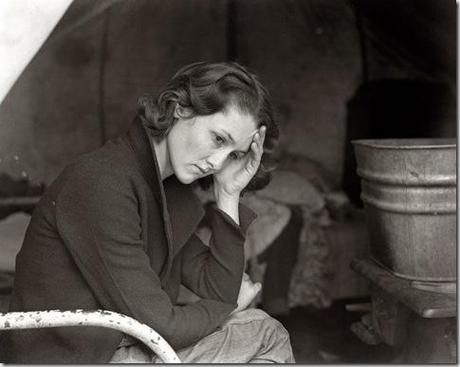 November 1936. "Daughter of migrant Tennessee coal miner. Living in American River camp near Sacramento, California."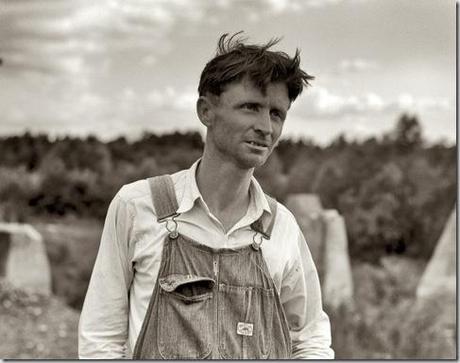 July 1937. "Man who worked in Fullerton, Louisiana, lumber mill for 15 years. He is now left stranded in the cut-over area."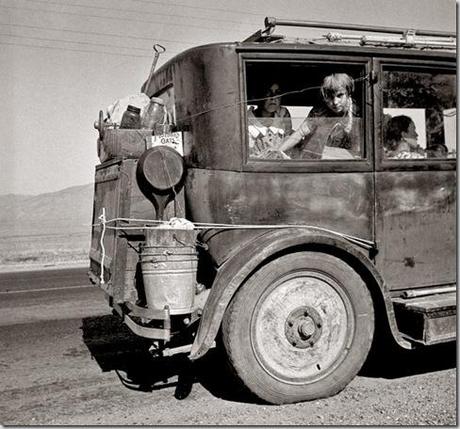 August 1936. Drought refugees from Abilene, Texas, following the crops of California as migratory workers. Said the father: "The finest people in this world live in Texas but I just can't seem to accomplish nothin' there. Two year drought, then a crop, then two years drought and so on. I got two brothers still trying to make it back there."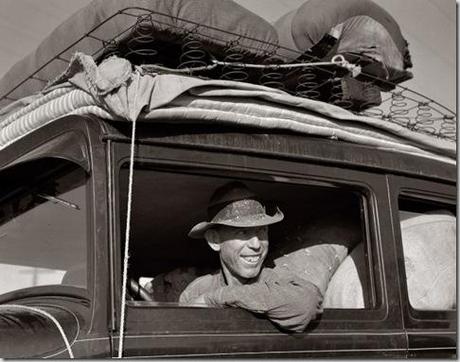 May 1939. "Between Tulare and Fresno on U.S. 99. Farmer from Independence, Kansas, on the road at cotton chopping time. He and his family have been in California for six months."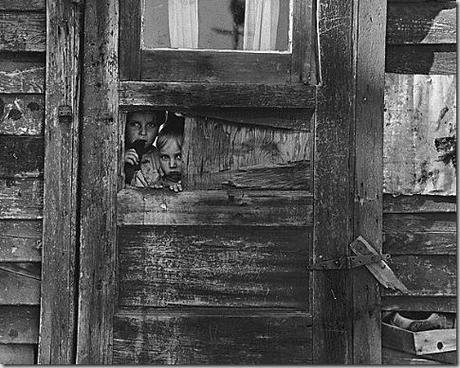 Between Weedpatch and Lamont, Kern County, California. Children living in camp...Rent $2.75 plus electricity.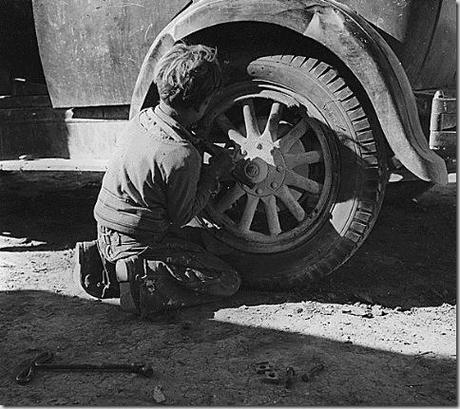 South of Eloy, Pinal County, Arizona. Ten-year-old migratory Mexican cotton picker. He was born in Tucson. He is fixing the family car. He does not go to school now, but when he did go was in grade 1-A. Says (in Spanish) "I do not go to school because my father wishes my aid in picking cotton." On preceding day he picked 25 pounds of Pima cotton.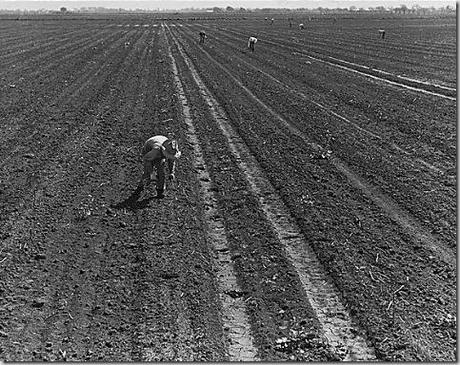 Oliverhurst, Yuba County, California. A view of new western addition to Oliverhurst.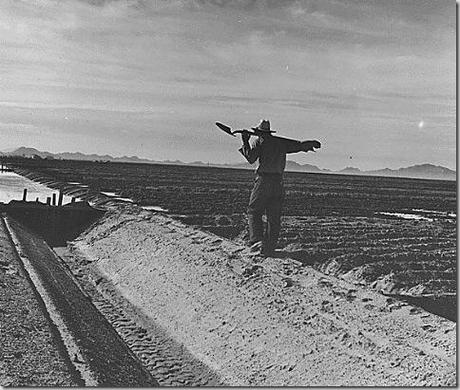 Eloy District, Pinal County, Arizona. Mexican irrigator on duty preparing field for flax cultivation.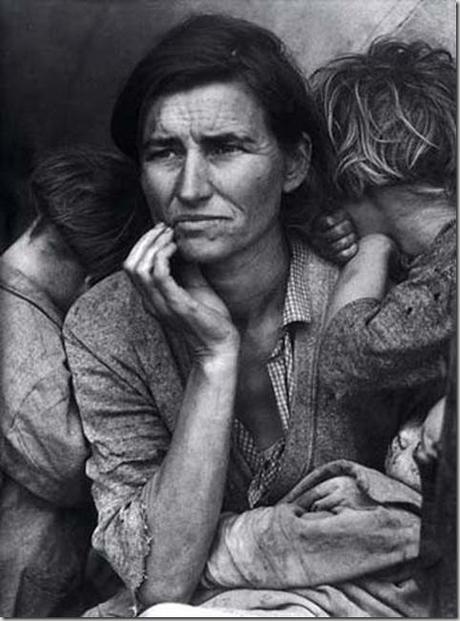 Dorothea Lange. Migrant Mother, Nipomo, California. 1936.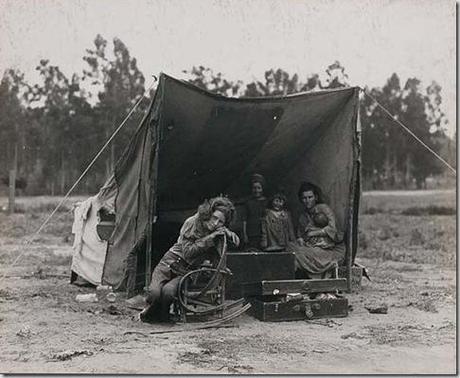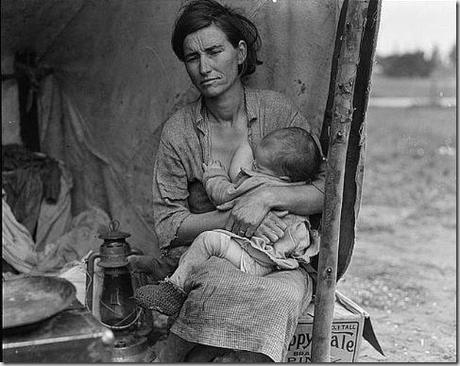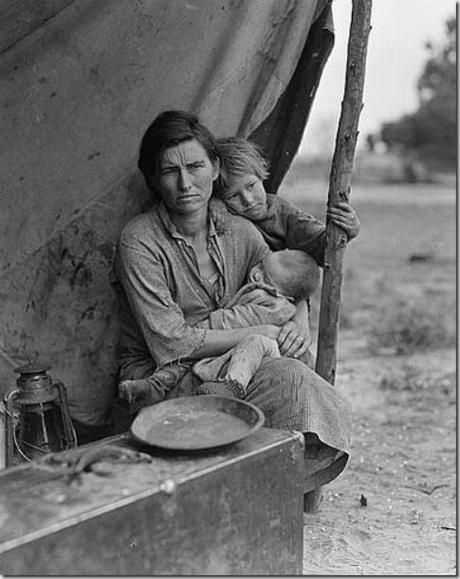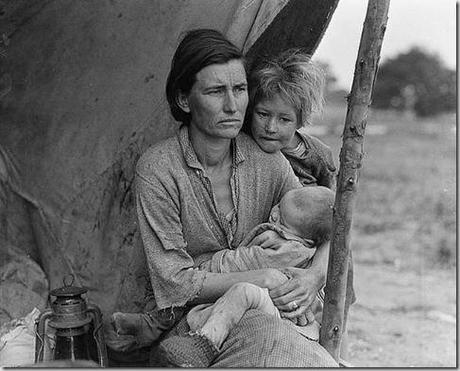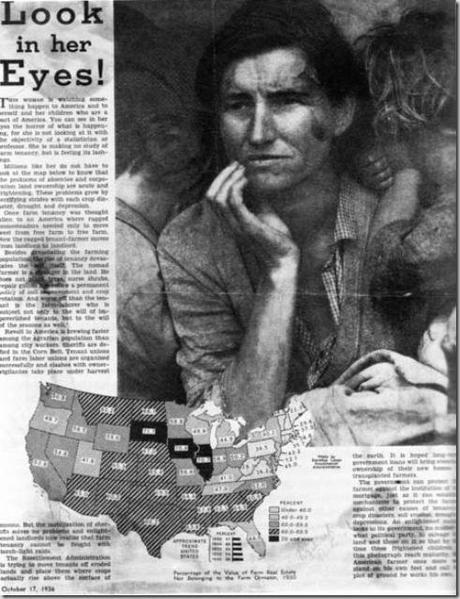 Midweed Pictorial spread using Migrant Mother image.  October 17, 1936.


 http://www.dorothealangephotos.com/
More Dorothea Lange
http://www.theslideprojector.com/photo1/photo1lecturepresentations/photo1lecture18.html
http://www.historyplace.com/unitedstates/lange/index.html