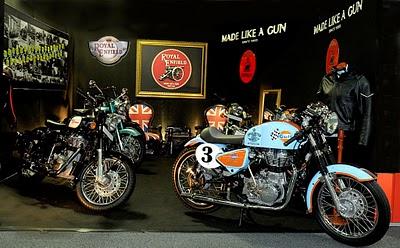 Ho contattato

Salvatore Salamone

(lontane origini italiane, ma Anglo-Colombiano) per la Royal Enfield Gulf che ho trovato pubblicata su facebook e presi quindi informazioni alla RE di Bogotà, dato che la moto era stata presentata appunto ad un Bike Expo della capitale Colombiana.


Sono quindi arrivato a Salvatore (un Fotografo professionista) che gentilmente ci spiega il tutto....




"STEVE MCQUEEN AND MY DAD WHERE THE INSPIRATION BEHIND THE GREAT GULF CAFE RACER.


MY FIRST MEMORIES OF A BRITISH BIKE WAS MY DADS NORTON COMMANDO WHICH I WOULD DREAM ABOUT BEING A CAFE RACER. WHEN I WAS ASKED TO BUILD A CUSTOM CAFE RACER FOR ROYAL ENFIELD AND GULF OILS THE FIRST THOUGHT THAT CAME INTO MY HEAD WAS THE GULF TEAM RACER AND ACTOR STEVE MCQUEEN, HE WAS MY HERO WHEN I WAS GROWING UP SO WHAT BETTER TRIBUTE TO HIM THAN MAKE A GULF CAFE RACER IN HIS NAME!


STEVE

McQueen

HAS ALWAYS BEEN A RACER OF FINE BRITISH BIKES AND RACED

in the

Porsche 917 Le Mans Gulf

in 1971.

AS WELL AS MAKING MANY FILMS ABOUT BIKES and racing.




So that was the beginning of my inspiration!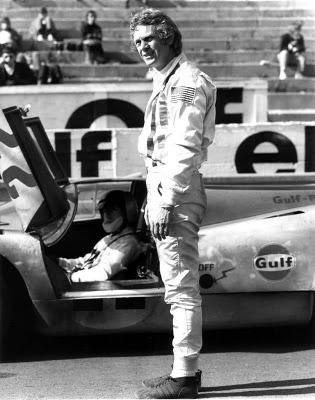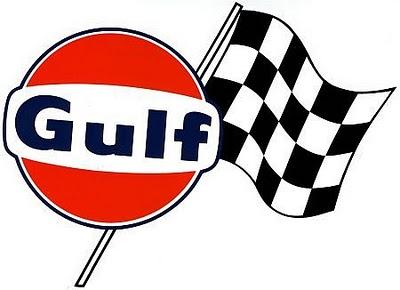 So i took a Royal Enfield 500 efi bullet chrome tank and a Royal Enfield Thunderbird out of there shop here in bogota and completely took the two bikes apart to make one i used the front yokes and clocks and electrical system from the Thunderbird and added that to the chassis of the 500 efi bullet then added a cafe racer tank from

www.hitchcocksmotorcycles.com
and made a cafe racer seat from a ktm SMR 560 race bike i had here in the race garage so it would be light weight ! And then ordered the rest of the parts from
www.hitchcocksmotorcycles.com
in the uk.
Then came the removal of the excess weight foot pegs were removed as well as the side stand / rear mudguard and any other metal abject that would add weight to the bike was removed around 20 kilos of fat! which would make the bike go faster with out loosing strength in the chassis then i made some special bushes for the fork yokes and some extra heavy duty ones to fit the rear sets.
list of parts :

- Cafe Racer Tank
- Rear sets (Ktm+homemade).
- clip on bars
- race trumpet air filter
- new airbox cover so i could remove the old system
- exhaust system which was also sent from the uk "open shorty tail" !
- foot pegs
- rear mudguard
- rear shock
- special bushes for the Tbird fork
then last but not least was the paint job the idea came from Steve McQueens le mans car from 1971 and found the colour codes on the internet and the stripes came from the Tag Heuer le mans Gulf watch.
and then spent 3 weeks putting the hole bike back together for the motor show here in Bogota!
And there you have it 2010 cafe racer thanks to Steve McQeen and my dad .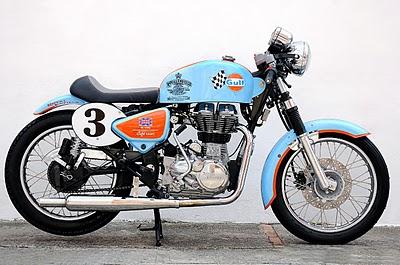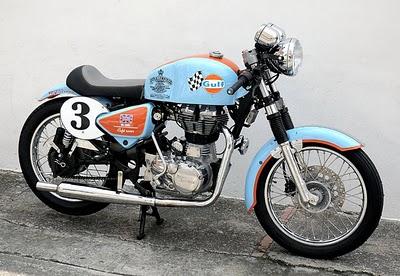 I had a great time building the bike and it was a show winner with over 2.000 people taken there picture with it over the 12 days of the show.
A big Thanks to GULF OILS for letting me build and a very special thank you to Royal Enfield whos idea it was in the first place and let me have two bikes to play with to make one!
Salvatore Salamone
"
Non c'è altro da aggiungere, per i "non english language", riassumo brevemente :
L'idea di una Cafe Racer è nata dall'amore di quelle che ai tempi possedeva il padre in Inghilterra ed il collegamento col mitico Steve McQueen.
Innamorato della livrea Gulf (quella del film LeMans) ed ottenuto il permesso di utilizzo del marchio (non da poco e non da tutti...), prende due modelli Royal, la Thunderbird (da noi non importata) e la Bullet 500 EFI (con pedivella di accensione !) e comincia l'opera.
Della Tbird si prende quasi tutta la parte elettrica e la strumentazione (credo anche il faro) e la forcella (su cui aggiunge delle boccole speciali), sulla Bullet comincia poi il resto del lavoro, con parafanghi nuovi e più leggeri, pedane e cavalletto laterale più leggere, ammortizzatori performance, sella fatta in casa da un KTM (!!), serbatoio vetroresina, targa porta numero, elimina il filtro aria e la scatola filtro originali sostituendoli con più performanti e non ultimo crea questa stupenda livrea Gulf coi colori ed i loghi "originali"......20kg in meno !
Che dire, spesso non si vede "tanto" lavoro su una RE (vabbè "Capitano" Andrea Fontana a parte), ma qui siamo veramente ad una bella e complessa realizzazione pur nella sua semplicità di stile finale.
Complimenti a Salvatore per la passione, l'idea e l'opera.
"Great job Salvatore, your work has a very good finish and the nostalgic style give us joy and pleasure !
Thanks so much"
Dave67 (

Davide Innante

)