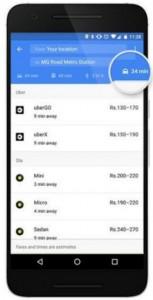 Google has announced that the Maps will now include a tab for car services along with the ones for walking, driving and public transportation. This new tab can be accessed before starting the navigation and thankfully it will also let you compare the fares offered by different cab service providers. In India the company has partnered with OLA and thus we would be able to access both Ola and Uber right from the Maps and also compare the fares.
Similarly, Google has partnered with 99Taxis in Brazil, Hailo in the U.K and Span, mytaxi in Germany and Spain, Gett in the UK. As of now it was only Uber that had its services integrated on the Google Maps and this sort of gave it an edge over the other local taxi hailing services, but with the addition of the new players it will be a level playing ground.
Google had incorporated a small Uber tab when this service was first introduced and now it will be moving the car services to a separate tab as it can be seen in the screenshot above. The new feature will first be rolled out for Android and Google says that these features will also be making way for iOS "very soon".
This makes it clear that Google doesn't want users to go out of their apps for travel related solutions and this will also help them create a revenue stream. It won't surprise us if Google will come up with rental cars and car pool services in its map. If you already have an app at place the deep linking will fetch the fares and availability on a real time basis. The possibilities are endless and with the ever
expanding transportation options available, Google Maps might one day become a one stop destination for daily commuters and travelers alike.