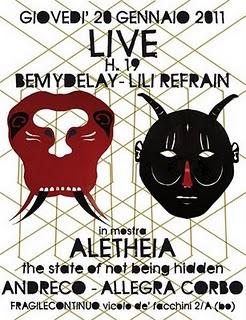 GIOVEDI' 20 GENNAIO
h. 19
live
BEMYDELAY + LILI REFRAIN

in mostra fino al 22 gennaio
ALETHEIA::::ANDRECO / ALLEGRA CORBO

C/O Fragile Continuo, Vicolo Dei Facchini 2a. Bologna

:::::::::::::::::::::::::::::::::::::::::::::::::::::::::::::::::::::::::
ALLEGRA CORBO lives her art in everyday life, crossing every time the borders between personal life and what she is realizing.
From 1988 she's been collaborating as actress, performer, scenographer,sculptor, technician with Societas Raffaello Sanzio teather company, Mutoid Waste Company, Mutek, Officine Alchemiche, Mama Ferox, ecc.

From 1996 Allegra (as visual artist) exposes in Italy and abroad.

Her pictorial artworks are tightly connected to her artistic life, composed of iconographic contaminations coming from the contemporary underground scene.

From 2008 s

he is the curator of the huge

project of Ancona,

Pop up!Arte Contemporanea nello Spazio Urbano , an event that hosted international street and urban artists from all over the world.

She has two children: Lola and Ezra.

http://www.flickr.com/allegracorbo
:::::::::::::::::::::::::::::::::::::::::::::::::::::::::::::::::::::::::
ANDRECO was born in Rome, but lived in others cities in Italy and Europe. Since 1999 he is researching on different topics as anatomy, biology, urbanism, ecology and the symbolic and ritual world. He attributes to the internal organs a symbolic messages, inventing new symbols. Andreco uses many techniques to represent his art, from public installations to videos or large size paintings and drawings.

In 2007 Andreco realized a site-specific installation project called "escape from the gallery" in Italy, Spain and Germany. "Escape from the gallery" is a flow of whales that start from the galleries or museums and escape into the public space, swimming on the walls of the cities. Between 2007 and 2011 Andreco's videos and animations have been presented in several video art festivals. Like: "Art shake"(Rome, Berlin, Termoli), "The Scientist" (Ferrara), "Cyou"(Riccione), "LPM"(Rome), MAPPING festival (Geneve), Short video art show (Kathmandu, Nepal), "Abstracta"(Rome, Cairo, New York) and "Videoart Yearbook 2007" curated by the Contemporary art department of the University of Bologna.



For his animations projects Andreco likes to collaborate whit film makers, musicians and sound artist. He collaborates with

Manuel Moruzzi Hoffman and

Teatrino Elettrico. Andreco produced work in many festival like "Glastombury" in Uk or the "PopUp!" in Ancona. http://www.flickr.com/andrecoandreco |http://www.andreco.org
:::::::::::::::::::::::::::::::::::::::::::::::::::::::::::::::::::::::::
BEMYDELAY (Cosmic Singing, Bologna)
is born during the winter of 2010. Vocal drones, guitar
loops, bells…a combination of tones delightful to the minds. Cosmic
blues. Sit down and have a listen, OHM


http://www.myspace.com/bem

ydelay/

::::::::::::::::::::::::::

::::::::::::::::::::::::::

:::::::::::::::::::
LILI REFRAIN

(Shippinghead Guitar, Roma)


is a guitarist, composer and performer based in Rome-Italy.
Since 2007, she has a solo project in which she uses electric guitar,
vocals and loops in real time, without using any computer or
pre-recorded tracks. Her songs are created by overlapping sounds that
combine minimalist repetition to folk, psychedelia, blues, rock, epic
metal, lyrical opera and guitar virtuosity.
Her masterful technique and her refined taste, lead the listener
through the maze of "Shippinghead", an unforgettable act beyond the
boundaries of any genre.
http://www.myspace.com/lilirefrain