EUROPEAN DAY OF JEWISH CULTURE
On September 4th, 2011 Jewish communities all over Europe will open the doors of their synagogues, museums, theaters and libraries.
Each city will revisit its history and culture through the eyes of one of its oldest minorities. This year, new technologies will be at the center of the celebration. New media, online resources, experimental film and virtual museums will offer means to navigate the Jewish heritage of Europe and its myriad of connections to other worlds. In Italy, Webcams will be available in many Italian cities for those who wish to connect remotely. The portal of the Italian Jewish Communities suggests a wide range of pathways that can be followed online or on the ground.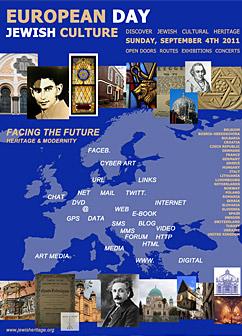 Jewish heritage in the era 2.0: new approaches to promotion and preservation using the new tools of communication, representation and exchange. The new era of communication has opened up a world of new possibilities for presenting and highlighting Jewish Culture and heritage. Whether it is graphic design, videos, films, internet forums, etc., they all offer the opportunity of both a new view on already known aspects, and of tackling the subject in a totally different way, using the ever increasing facilities for sharing information interactively in a social media dialogue. Visit programs in Italy and elsewhere.
More info at:
http://www.jewisheritage.org/jh/index.php
http://www.ucei.it/giornatadellacultura/default.asp