Buongiorno, fanciulle (e fanciulli) all'ascolto!
Per ritemprarmi dalle fatiche della scorsa settimana, oggi ci spariamo una bella press release (in inglese) degli smalti OPI. Ecco a voi, la collezione Autunno Inverno dedicata alla città di S. Francisco.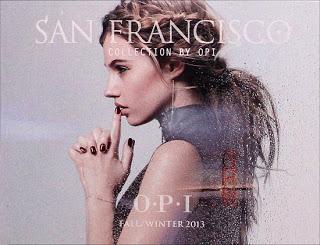 Che OPI trovi l'ispirazione in giro per il globo è cosa nota. Due anni fa, la collezione estiva dedicata al Texas, poi quell'autunnale dedicata alla Costa Est. Quest'anno, per l'A/I 2013-2014 torniamo negli States con una città magica che spero di visitare al più presto, S. Francisco.
Ho dato un'occhiata al volo ed è scattato il colpo di fulmine per alcuni colori, indovinate quali?
La cartella stampa è in inglese, ma tanto voi non siete come la sottoscritta che con l'inglese fa a pugni, vero?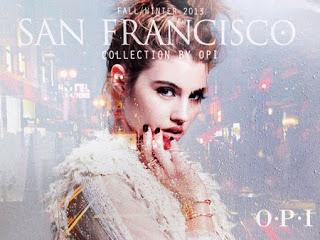 Urban-Inspired Nails!


OPI Launches the San Francisco Collection

For Fall/Winter 2013




San Francisco by OPI

 brings street chic style with West Coast flair to nails and toes for Fall/Winter 2013. This new collection features a palette ranging from sky and sea-colored hues of blues and gray to reds, burgundies and browns inspired by some of the city's most iconic elements – Chinatown, the Golden Gate bridge and the Embarcadero. This fall mélange is mixed with texture, seen in three new Liquid Sand™nail lacquers in earthy hues of taupe, blue and gray: It's All San Andreas's Fault, Wharf! Wharf! Wharf! and Alcatraz…Rocks. Liquid Sand lacquers dry to a textured, matte finish, infused with reflective sparkle. "To me, the women of San Francisco and the city itself really epitomize today's multifaceted beauty consumer," explains Suzi Weiss-Fischmann, OPI Executive VP and Artistic Director.  "San Francisco offers a European flair with distinct West Coast attributes. These elements inspired a collection of urban chic 

nail lacquer

 shades, thanks to the sophisticated combination of high fashion and eclectic street style."With twelve colors ranging from moody grays and blues to garnet and ruby jewel tones, these lacquers are designed to accessorize fall's hottest looks, from military details to winter whites," continues Weiss-Fischmann. "On fall runways, models were seen wearing luxurious textures from head to toe. The three new Liquid Sand nail lacquers incorporate the texture trend through nails, with rich matte finishes in colors to complement the season's fashion."

San Francisco by OPI 

includes the following shades:



A-Piers to Be Tan




I shore do like this chocolaty tan.



Dining al Frisco

Just feast your eyes on this fresh-air blue!



Haven't the Foggiest

Can't tell you why I love this misty gray...I just do!






Peace & Love & OPI

This holographic sage and eggplant is far out!



Keeping Suzi at Bay

There's no holding back this assertive navy blue.



Incognito in Sausalito

You better keep this almost-black blue under wraps.



Lost on Lombard

Oh garn-et! I'm all turned around!



I Knead Sour-Dough

Are you bready to wear this toasty warm brown?



Muir Muir on the Wall

This trailblazing plum is the fairest of all.



In the Cable Car-Pool Lane

Good golly, Miss Trolley, this rich burgundy takes me away!



Embarca-Dare Ya!

Betcha can't pass up this marvelous magenta.



First Date at the Golden Gate

You and me and this shimmery ruby make three.



It's All San Andreas's Fault

I'd move mountains to get this textured earthy taupe!



Wharf! Wharf! Wharf!

Dog-gone it...fetch me that textured matte blue!




Alcatraz...Rocks

There's no escaping this arresting textured gray.
San Francisco 

nail lacquer shades each feature OPI's exclusive ProWide™ Brush for the ultimate in application. Liquid Sand nail lacquers should always be worn without top coat. San Francisco by OPI will be available

 August 7, 2013,

 at Professional Salons, including Beauty Brands, Beauty First, Chatters, Dillard's, jcp Salons, Pure Beauty, Regis, Trade Secret, ULTA and ulta.com for $9.00 ($10.95 CAN) suggested retail for each nail lacquer. 
Disponibili, negli USA, dal 7 Agosto. Da noi? Non saprei dirvelo, ma credo che saranno disponibili per i primi di Settembre al massimo. Sono molto indecisa, perché almeno da quello che ho visto online, la OPI ha una concezione tutta sua della parola 'olografico'. In più, sembra che la Peta abbia depennato la OPI dalla lista delle
marche
cruelty free in quanto vende in Cina, ed in quel paese pare sia obbligatorio per legge testare i prodotti. Il pare è dato dal fatto che anche l'Erbolario ha aperto il suo mercato al colosso orientale, MA ha tenuto a specificare che è riuscito a mantenersi libero dai test sugli animali. Ora, premesso che a volte la PETA ha un atteggiamento un po' schizoide, mi chiedo mi chiedo: se ce l'ha fatto L'Erbolario, non potrebbe avercela fatta anche OPI? Ed è per questo che ho inviato loro un'e-mail, chiedendo (educatamente) spiegazioni. Restate aggiornate, e, nella speranza (pia) che si possa ancora comperare OPI, vi saluto chiedendomi di raccontarmi qual è il vostro colore preferito tra quelli proposti per quest'autunno. Io metto su il caffè. 
Acque pacate e dolci risate finché non ci rincontreremo