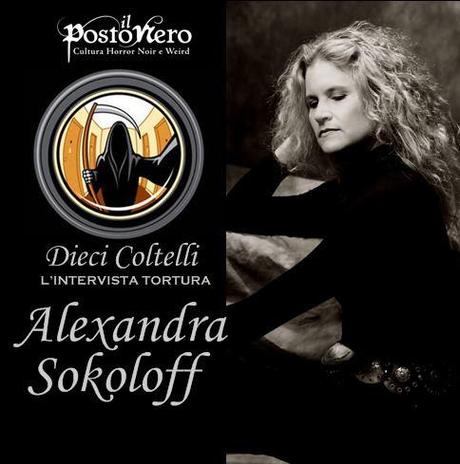 Ten Knives interview with Alexandra Sokoloff
Knife 1) Please name at least three contemporary authors who write generally better than you do and why.
[Alexandra Sokoloff] Mo Hayder: she never flinches away from portraying the most heinous of human evil and she is never, ever exploitive about it. The best  at this since Thomas Harris. Heartbreaking and sometimes almost unreadably intense. Lee Child: with book after book he expands on the legend of a very human but also archetypal hero/antihero with Sherlockian investigative skills, a doomed but noble mission, an amazing ability to rally a motley crew of unlikely allies, and the most interesting inner monologue, within gripping, intricate suspense plots. Karin Slaughter: stellar crime fiction that explores the worst of women's nightmares, with wildly eccentric and prickly characters you fall reluctantly in love with. Denise Mina.  I can't even analyze her crime fiction, I get so caught up in the characters and the world she depicts. Stephen King - it goes without saying but I had to say it anyway. Dan Simmons, too.  
Knife 2) Has ever something happened in your life that made you think of giving up writing?


[Alexandra Sokoloff] Are you kidding? I think about giving up writing every day! But since you ask, it's been hard to reconnect to writing after the recent death of my father, but it's definitely getting better.


Knife 3) Which compromises did you have to accept for commercial reasons?


[Alexandra Sokoloff] Good grief, I was a screenwriter - every working day was full of compromises.  But I wrote my first novel partly because after the Saw series became popular I was being pushed by executives to write torture scenes, and I had to draw the line - I just won't do that. You have much more power as an author, it's been very liberating.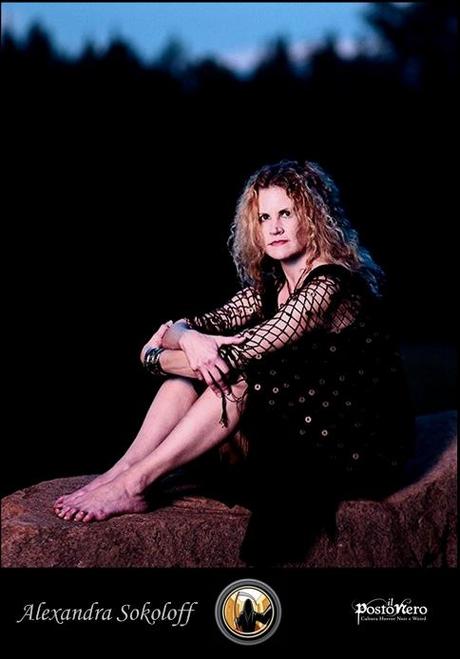 Knife 4) Is it very important to win literary prizes? Does it help to sell?
[Alexandra Sokoloff] I don't know that it's important, but it sure helps to remember that you've won prizes when you get those bad Amazon reviews.  I do think it helps in terms of selling, but I don't know how much.  It's just another thing that might sway someone to try your book, and that's always a good thing.
Knife 5) When you have no ideas for writing, how do you bring down yourself and whom do you phone to?


[Alexandra Sokoloff] I don't remember the last time I had no ideas.  My problem right now is not having enough time to write all the ideas I have. This is why I go to a lot of book conventions, though - it's great to hang out with other authors and talk about things like this. And interacting with readers always recharges me and keeps me inspired.


Knife 6) What do you think when you read your country's best seller rankings?


[Alexandra Sokoloff] I never read them!


7) What do you reproach to American publishing? What are its limits?


[Alexandra Sokoloff] I think right now a big problem is that publishers are not being very realistic about e book prices, and to a certain extent some publishers are holding authors hostage with that rigidity about pricing.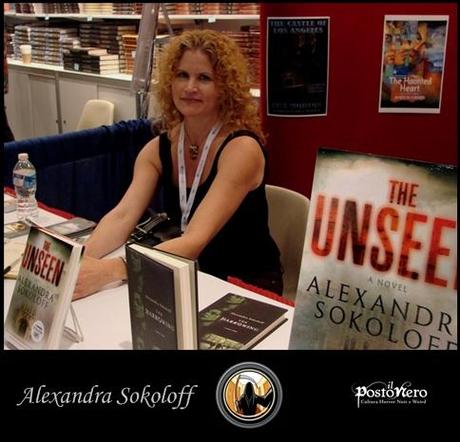 Knife 8) How many times have you refused to participate to a no-profit project?


[Alexandra Sokoloff] I don't know how many times exactly, but generally I don't write short stories because it's too much work and time for the money involved.  Writing is my living, I need to spend my time on what's going to pay the mortgage.


Knife 9) What did you do right after signing major book deal?
[Alexandra Sokoloff] I was in the middle of moving to a new house when I sold my first book, The Harrowing, so I did nothing spectacular; I had to keep moving. When I sold my first screenplay, though, I booked a trip to London and Paris immediately!
Knife 10) Final question: Whom to (or to what) would you throw a knife?


[Alexandra Sokoloff] Most of the Republican presidential candidates.


Leggi l'intervista in Italiano



Guest Profile

Alexandra Sokoloff is a California native who grew up in both Northern and Southern California as the daughter of scientist and educator parents, which drove her into musical theater at an early age. She acted, sang, danced and played classical piano through the turbulent tween years, and started directing plays at age sixteen, a year she also lived in Istanbul as an AFS exchange student and began college.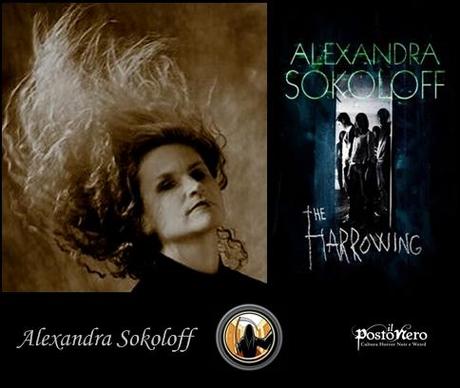 At U.C. Berkeley, she majored in theater and minored in everything that Berkeley has a reputation for. While not doing - everything else - she wrote, directed, and acted in productions from Shakespeare to street theater; trained in modern dance; directed and choreographed four full-scale musicals; spent a summer singing backup vocals in a bar at Glacier National Park, audited at least three times as many classes in various subjects as she was actually taking, and graduated Phi Beta Kappa, which is a miracle considering -well, never mind that. After college she moved to Los Angeles, where she has made an interesting living writing novel adaptations and original suspense and horror scripts for numerous Hollywood studios (Sony, Fox, Disney, Miramax), for producers such as Michael Bay, David Heyman, Laura Ziskin and Neal Moritz.

The Harrowing, her debut ghost story, was nominated for both a Bram Stoker award (horror) and an Anthony award (mystery), for Best First Novel. The book is based on real experiences from her high school and college years. The psychological undercurrents of the story are drawn from her experience teaching emotionally disturbed and incarcerated teenagers in the Los Angeles County prison system. Her second novel of dark suspense, The Price, explores troubling questions of what people will do for love, or personal survival, in the eerie setting of a labyrinthine Boston hospital. Her third supernatural thriller, The Unseen, centers on a team of psychology researchers who decide to replicate a long-buried poltergeist investigation, and is based on the real-life ESP experiments and poltergeist studies conducted in the Rhine parapsychology department at Duke University. In her fourth supernatural thriller, Book of Shadows, a Boston homicide detective teams up with a beautiful, mysterious witch from Salem in a race to solve a Satanic killing.  Her first paranormal thriller,  The Shifters , part two of The Keepers trilogy with bestselling authors Heather Graham and Deborah LeBlanc, and her new edgy supernatural YA thriller, The Space Between, are out now.



In her free time Alexandra enjoys adventure travel and all kinds of dance, which she has also taught, and performs in the all-author Killer Thriller Band, and with Heather Graham's Slush Pile Players. She is a former member of the Board of Directors of the Writers Guild of America, west, and of the Board of the Mystery Writers of America, and is the founder of WriterAction.com, a large and unruly online community of over 2000 professional screenwriters.
She can be found blogging at Murderati.com and teaching her popular workshop on Screenwriting Tricks for Authors on her own blog, Screenwriting Tricks For Authors. Screenwriting Tricks for Authors is now available as a workbook on Kindle, Smashwords, and Nook. Web Site