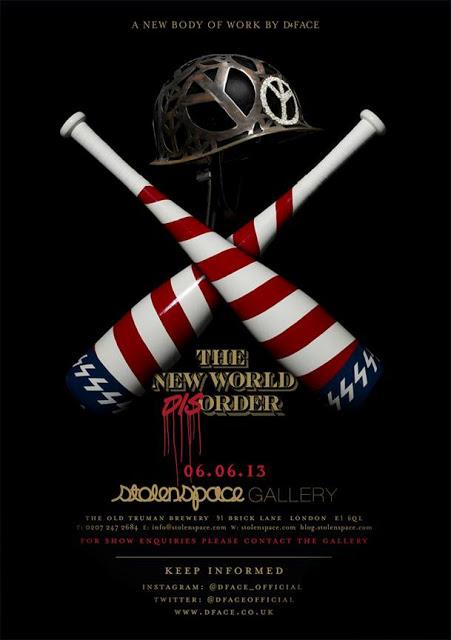 Reminder for D*Face, New World Disorder @ StolenSpace Gallery on the Thursday 6th June.
The exhibition includes his latest body of work, which reflects upon times of chaos, disorder and loss, as informed by shifting circumstances in the social climate. Exploring topical and longstanding dystopian sentiments, New World Disorder confronts the effects of love and loss from a physical, mental and cultural standpoint, drawing upon the artist's direct experiences. 
The exhibition also includes a once-in-a-lifetime opportunity to experience the unique nerve centre of D*Face's working environment by visiting his studio space, situated above the StolenSpace Gallery within the maze of The Old Truman Brewery. This marks the end of an era before the gallery relocates and the adjoining artist studios are demolished.
The opening reception will take place between 6 and 8pm.
StolenSpace Gallery - The Old Truman Brewery, 91 Brick Lane, E1 6QL.