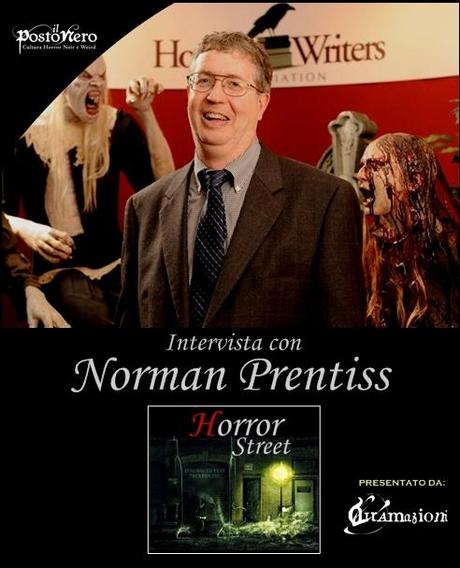 Issue #12  of Il Posto Nero's Horror Street heading, dedicated to interview with USA horror writers. This time the Horror Street's guest is Norman Prentiss, writer and editor, HWA Bram Stoker Award winner
[Alessandro Manzetti] Teacher, editor at Cemetery Dance, essayist, writer of fiction and poetry. You have many souls, even if all converge towards an imaginary common center. Language, literature, poetry: can we imagine them as extensions of ourselves to something? Where do you think they can take us; where did they bring you to?
[Norman Prentiss] I don't know that I've ever gotten as philosophical about my interests as your question implies.  I guess if you live long enough, you end up doing a lot of different things - with a lot of failure and success along the way (usually in that order!).  One interesting thing for me, though, is that I always wanted to be a fiction writer, specifically a horror writer, and it was the first place my imagination took me as a child.  However, I eventually got serious and veered away from horror fiction - into teaching, editing, scholarly writing, poetry.  I've gotten much joy, and some paychecks, from those pursuits (and still do), but it took me almost twenty years to get back into writing fiction.
[Alessandro Manzetti] Today, poetry seems in great crisis, few innovations, very few readers. Here in Italy poetry has less and less opportunity for publication. What is the situation in your country?
[Norman Prentiss] I think poetry often has the disadvantage of seeming like a specialized market, for a discriminating yet small group of readers.  I think more people need to discover (or rediscover) poetry, and realize how much they can enjoy it.  One good answer method is through a kind of theme anthology that wins people over with the subject:  I think Christopher Conlon's anthology of poems based on Alfred Hitchcock movies (A Sea of Alone) will appeal to a lot of people who don't consider themselves regular readers of poetry; a while back, Cemetery Dance published a collection of poems by authors known for their horror fiction (The Devil's Wine, edited by Tom Piccirilli), which is another place where horror readers can find their entry into enjoying poetry.  As a matter of fact, both Conlon and Piccirilli are fantastic poets themselves, with several collections available - if readers seek those out, they'll be well on your way to finding other poems and poets to appreciate.
[Alessandro Manzetti] You have written many short stories, published in various magazines and collections. What is the first step you follow in the creative process? Are there recurring characters in your stories?
[Norman Prentiss] With stories, I frequently start with an idea - but the idea doesn't usually grab me and make me start writing until I also figure out the emotional notes I want to hit in the story. I didn't used to have recurring characters until recently, with the Dr. Sibley character I created for my new mini-collection from Cemetery Dance, Four Legs in the Morning.  He's kind of an anti-recurring character, though, since he tends to have a minimal presence in his own stories. Sibley is a long-tenured chair of a college English department, and he's the kind of guy who makes strange things happen behind the scene, if you cross him.
[Alessandro Manzetti] I have read that you admire Douglas Clegg, unfortunately not yet published in Italy; can you tell us something of his style and his works? As an editor, which one of his books would you recommend for our market?
[Norman Prentiss] Doug's been writing for quite a while, so there's good variety across his different novels and stories.  He's really great at creating an atmosphere in which horror can emerge - the history of a place, and the families and characters who live there, haunting it (in every sense of the work haunt).  He's a great storyteller, and you can tell he really immerses himself in the imaginative worlds he creates.  My favorite book by him is Neverland, which is a kind of coming of age story - but it gets really dark, too.  I also highly recommend Hour Before Dark, the Vampyricon trilogy, and his amazing short story collection, The Machinery of Night. Also his novella that was recently serialized in Cemetery Dance magazine, The Innocents at the Museum of Antiquities, which I thought was incredible.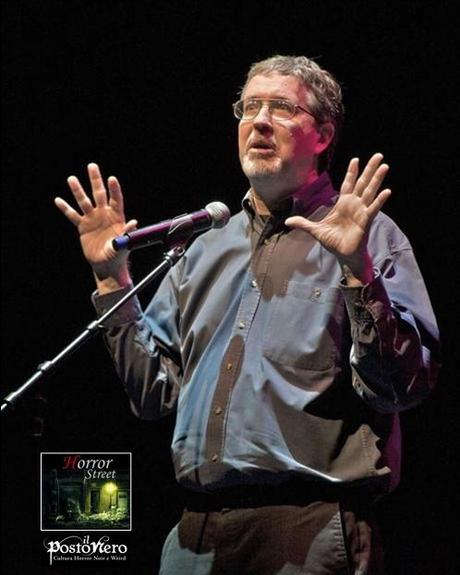 [Alessandro Manzetti] You have written several essays on gothic literature; are you closer to the irrational gothic of The Castle of Otranto by Horace Walpole or to the subsequent science interpretation of Frankenstein or the Modern Prometheus by Mary Shelley?
[Norman Prentiss] I'd put myself more in the Radcliffe camp - although I don't much care for her tendency to explain away the supernatural events at the ends of her novels, in some sense undermining the imaginative power of her books' best scenes. But what Radcliffe does so well is that she presents the gothic events through the fears of her characters. They participate in the creation of the ghosts that frighten them (and the reader participates, too).
[Alessandro Manzetti] Going back to your stories, what are the themes that you deal with in The Everywhere Man and In the Best Stories? Which other genres have you tried in your writing?
[Norman Prentiss] The Everywhere Man is about a public obsession with an upsetting news story that ends up literally giving that story extra life of its own. I think I'd say that it's about the familiar horrors of the evening news becoming even more upsetting and intrusive in our lives. In the Best Stories… is a brief tale about a father who chooses the wrong bedtime story to read to his daughter.  I think in both of these stories, and in a lot of the things I write, there's a strange twist on the normal routine that suddenly adds a level of menace. For me, the scariest moments in life are those times when you think you have everything under control, and then life changes the rules on you.  
As for other genres, I've branched out a bit lately into humorous fiction (The Man Who Could Not be Bothered to Die, forthcoming in Blood Lite 3), and recently wrote a fun sci-fi/zombie/pulp story for the Zombies vs. Robots prose project.
[Alessandro Manzetti] Your story In The Porches of My Ears has won the Bram Stoker Award: one couple at the cinema, the blind husband and his wife who tells him about the film. A very touching scene.  Can you tell us something more about this story? Were you inspired by a real event?


[Norman Prentiss] Yeah, it was definitely inspired by a real event, though it didn't happen to me. My friends Emily and John had that same situation of sitting down in a movie theater, not realizing the gentleman in front of them was blind and that his wife would narrate the entire movie to him. I've said sometimes that what I often do is take something from real life and make it worse, so the story begins with that situation and makes it more uncomfortable/uncanny. This is also an example of my having the initial situation for a story, then waiting to write the story when I figure out the emotional content of it. It started out for me as a story about how much I enjoy the movie-going experience - and how much I hate when that experience gets spoiled by someone else in the theater. Once I realized this absurd or awkward situation could have deeper implications for the narrator and his wife, I'd found the emotional content of the story.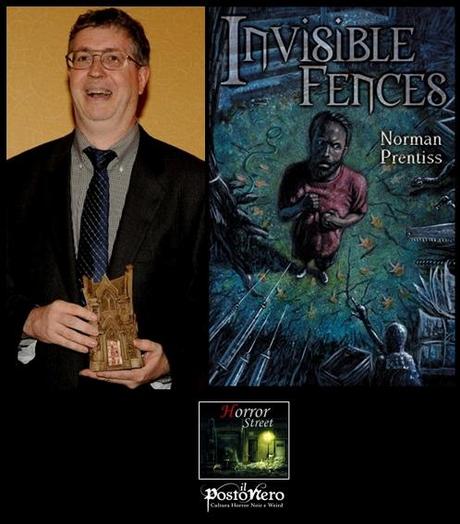 [Alessandro Manzetti] Would you tell us an anecdote of your editor activity at Cemetery Dance?


[Norman Prentiss] Sure.With the magazine, I've done work with the regular columnists, which was great fun, but I also spent a lot of time with reading the unsolicited fiction. I typically visit the CD offices about once a month. I used to fill the trunk of my VW Beetle with bins of mailed submissions to the magazine. It was fun to read all the submissions, but it was also very time-consuming. The thing that impressed me the most was how good so many of the stories were - but that also made it very hard for the absolute best stories to stand out.


With the book line, I've been lucky enough to read quite a few projects before they've been announced (such as King's Blockade Billy). It's really exciting to have the inside scoop on something - but it's tough when you can't tell anybody else about it!
[Alessandro Manzetti] It's time to talk about your long story Invisible Fences, winner of the latest edition of the HWA Bram Stoker Award (Long fiction). You tell the disturbing story of Nathan, over-protected by his parents, his difficulties with becoming an adult, and about invisible problems. You create a great atmosphere that pervades every page. It's such a strong and inspired book, it can't be just a figment of the imagination; how much of your personal experience is in it?
[Norman Prentiss] Thanks for the nice words about Invisible Fences.You're right that it was a very personal book for me, and I definitely borrowed some ideas and experiences from my own life to write it. I think the major similarity to my own life is that I also had a sibling who died when I was young, and my mother became overprotective as a result; some elements of my mother's death also became part of the story, including my reaction to it.
My idea for this book was that I wanted to try to write a haunted house book that doesn't initially seem like a haunted house book; and I wanted to show the different life events that might be needed to summon up something like a ghost.  For me, the supernatural elements of a horror story can't just show up - different elements need to click into place before the ghost (or whatever) can arrive.  


I should point out that the novella, which has long been sold out in its limited edition format, is now for sale as an

eBook
[Alessandro Manzetti] Your latest work is Four Legs in the Morning, a collection of three stories connected to each other.  You introduce a very strong character such as Dr. Bennett Sibley; what secrets does he hide?
[Norman Prentiss] Well, that's the big question about Sibley, as I imagine him: how powerful is he, really? Sibley is one of those guys who has been around forever, and he has a lot of influence at the college where he works. But his scholarly accomplishments are minimal - certainly not enough to merit his influence over his coworkers and the university administration. That's part of the fun of these stories, for me: he definitely seems to have some supernatural abilities, and he's made some strange artifacts that might work like magical talismans…but it's also possible that some percentage of his power is due to the force of his personality.  The stories are just as much about the people who run up against him:  a student who plagiarizes an essay, for example, never gets accused of the crime, never gets any direct punishment - but he's certain that Sibley found out, and definitely learns to regret his actions.
If people are interesting in reading the first of the three Dr. Sibley stories, it's available as a free e-book download

from the Cemetery Dance site: It's also available for .99 cents from Amazon, Barnes & Noble, iTunes, etc.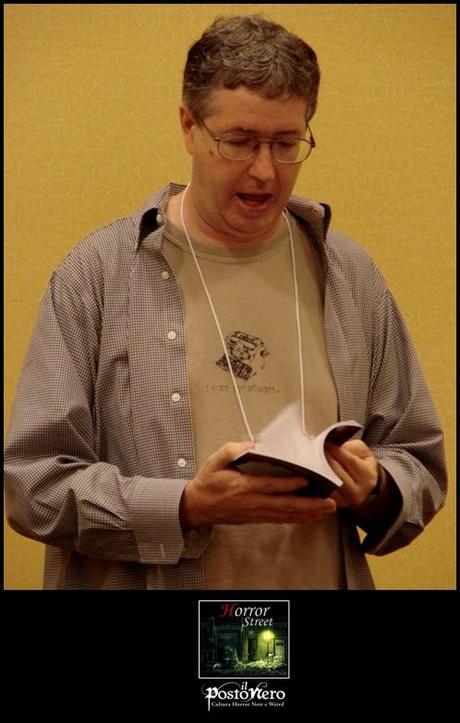 [Alessandro Manzetti] Now we are waiting for a novel, when will this moment come?


[Norman Prentiss] It's definitely in the works.  I have several that I've come near to finishing, but the book I'm working on now seems really promising to me…


[Alessandro Manzetti] And now, two Horror Street classic questions: In this heading we try to learn about new landscape of horror literature, through direct experience of the authors. What are the new trends of horror? Could you name some new authors who are conducting original projects?
[Norman Prentiss] My guess is that the new trends won't be based on subject matter, but will be driven by the changes in publishing. Because of the new e-reader devices, stories won't have to fit the standard novel-length favored by mass market publishers - so there will be more novellas available, short stories, and even short story collections (which is a favorite format of mine). I'm currently reading a pre-release version of Stephen Bacon's debut collection, and it's stunning.
Christopher Conlon's A Matrix of Angels is one of the best things I read last year - can't recommend that one highly enough - and he's got a new one coming out soon called Lullaby for the Rain Girl. I was also very impressed with Lee Thomas' The German, and highly recommend his forthcoming werewolf novella from Cemetery Dance (Torn). I also really loved Tales from the Yellow Rose Diner and Fill Station, forthcoming from Sideshow Press: it's a collection with one story each from Erik Williams, John Mantooth, Kim Despins, Sam W. Anderson, Petra Miller, and Kurt Dinan - great stories, and these are all talented authors worth watching.
[Alessandro Manzetti] We leave the reader to imagine walking along a dark and lonely road going back home, and having to turn the corner. Who (or what) does he find around the corner?


[Norman Prentiss] The reader steps around the corner, and it's actually a crowded street in a large city. The crowd closes in, making it impossible to turn around, and suddenly the sidewalk starts to wobble…


Thanks Norman for being the guest of Il Posto Nero.
Interview by Alessandro ManzettiHWA Coordinator Italy
Leggi l'intervista in Italiano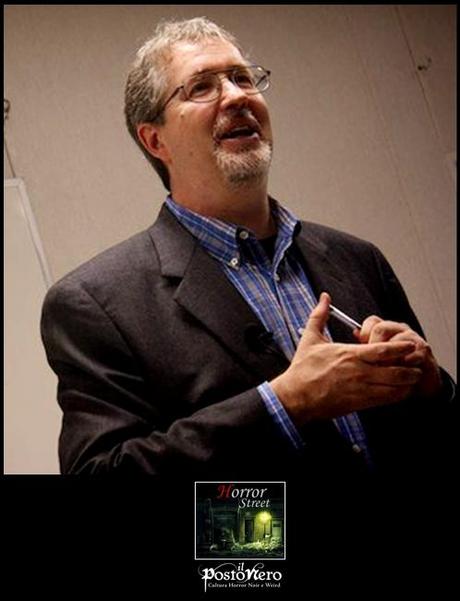 Guest Profile


Norman Prentiss won the HWA Bram Stoker Award for Superior Achievement in Short Fiction (2008) for In the Porches of My Ears. His first book, Invisible Fences, was published in May 2010 by Cemetery Dance and won  the HWA Bram Stoker Award for Superior Achievement in Long Fiction (2010). His fiction has also appeared in Black Static, Commutability, Tales from the Gorezone, Damned Nation, Best Horror of the Year, The Year's Best Dark Fantasy and Horror, and in three editions of the Shivers anthology series. His poetry has appeared in Writer Online, Southern Poetry Review, and Baltimore's City Paper, and is forthcoming in A Sea of Alone: Poems for Alfred Hitchcock. His essays on gothic and sensation literature have appeared in Victorian Poetry, Colby Quarterly, and The Thomas Hardy Review. His last work is  the collection Four Legs in the Morning (Cemetery Dance - 2011) . Web Site