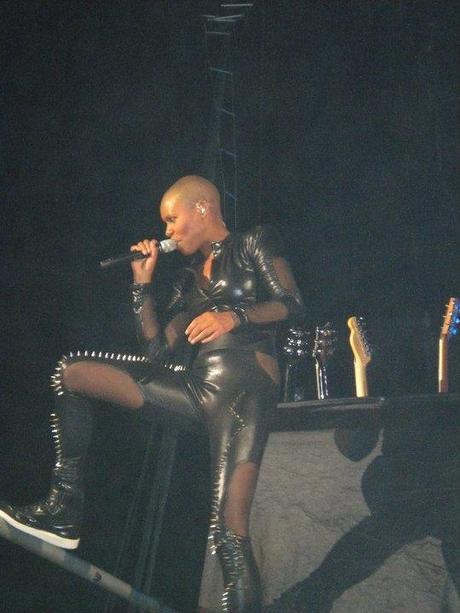 Ho il piacere e l'onore di presentarvi l'intervista fatta ad una delle più grandi voci della musica contemporanea. Sto parlando di Skin(che non ha certo bisogno di presentazioni) che son riuscito a raggiungere via mail e cortesemente ha risposto alle mie domande. Le ho chiesto qualche anticipazione sugli show estivi e  sul nuovo album. Inoltre le ho chiesto alcuni chiarimenti sulle setlist (per quanto concerne l'esclusione di alcuni pezzi memorabili) e un parere sulla nostra politica nazionale. Inoltre ci parla delle sue preferenze musicali, i suoi porgetti da solista e di un possibile coinvolgimento per la realizzazione di una colonna sonora.
Da ieri è in rotazione il singolo God Loves Only you degli Skunk Anansie, quarto estratto da Wonderlustre. Il video ufficiale lo potete vedere alla fine dell'intervista.

Skin sarà con gli Skunk Anansie  in Italia per sei date:
6 luglio - Udine @ Castello
8 luglio - Pistoia @ Piazza Duomo – Pistoia Blues Festival
9 luglio - Napoli @ Acciaieria Sonora – Neapolis Festival
10 luglio - Ferrara @ Piazza Castello
19 luglio - Milano @ Arena Civica
20 luglio - Roma @ Ippodromo delle Capannelle - Rock in Roma
Ecco a voi l'intervista, che ho preferito non tradurre per permettere anche ai lettori non italiani di comprendere le parole di Skin e perchè nella tarduzione si perde sempre qualcosa. Per chiarimenti riguardanti l'intervista scriveteci a [email protected] oppure contattateci sulla nostra pagina facebook. Enjoy!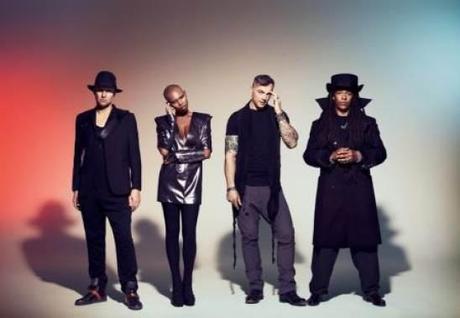 1) You will be on tour in European Festival to promote Wonderlustre. What are the new album songs that sounds better live? And will there be space for new songs in Summer shows?
Actually I think they all sound different live but for the first time not better or worst, we just try to make sure the songs rock live like they do on the record but of course the record has more layers. I think the trick is not to worry about repeating ever sound thats on the record so that live people have a different experience. 
We are still experimenting with new stuff, In the past we loved playing new songs that haven't been recorded yet but now because of youtube if you play a new song everyone sees it, not just those who were at the festival so by the time the record comes around they either prefer the festival version because they're more used to it or they don't consider it a new song because they've seen it on the internet. So now we know if we want to keep the songs fresh, best to save them till at least they're recorded so that people hear the proper album version or don't play them till the last minute. This is actually very hard for us to do because we like the set to have new songs, keeps it fresh for us too so we have sneaked something into the set thats new to us and not on the album, but it is recorded and out there so not exactly brand new, lets see what happens.
2) In Your gigs, you often play a range of songs and there are some songs that you never played live (at least recently) like It doesn't matter, I'm not afraid, She's my heroine, infidelity  and famous b-side like Feel, Decadence of your starvation, King Psychotic size. In the next tour will there be some kind of revolution in the setlist? Are there two/Three songs that you don't love particularly and  you aren't never going to play?
Yes there are definitely songs that we loved recording but have no desire to play live, they were 'of the moment' and that moment is past. Most of the b-sides come under that category. There are also songs that we've played to death, these songs bore us so we don't play them anymore either, they need a rest. The thing is, we're in a rock band because we are independent spirits who want to make our own lives, therefore we're not going to play songs that don't get us excited as then the vibe won't be right, thats not what its about. At the moment we're building our band back up so we love playing all the big fat stonking hits because we haven't played them in 9 years, as we love all our new songs that are hits so they're fab to play also. We do have new ideas for the next album though, they will be a 'revolution' as you say but not one we control, no one will ever be able to tell us what to play.
3) Wonderlustre is been number one in Italy and has reached good positions in many countries. Skunk anansie have found a new youth with this album. How was the new sound born? What are the most important influences?
The new sound was born out of a brand new way of thinking, working and developing songs. We are different people now and are also more skilled in areas of music that were purely embryonic in the 90's. I think the common value we have is that we don't see ourselves as a 90's band, we see ourselves and very modern, contemporary but not trendy! We worship new music whether its from old bands or new bands but we are wise enough to keep our own mojo spinning, we like some new sounds but that doesn't necessary influence our sound, we don't wanna sound like tini tempah! ;-)

4) What are the artist of international music scene that you appreciate more in this moment? And are there some italian artist (beyond Marlene Kuntz) that you like right now?
I like black keys and my morning jacket right now. I also like a lot of electronic stuff which can be quite nameless.
5) In your past you have often talked about politics. Italy, like some other European countries, is in a very difficult economic moment, especially for young people (like temporary employment issue and high level of unemployment). The Government does nothing because is busy to resolve  legal issues of our President, Mr Berlusconi. What do you think about our country situation?
I have had many long political conversations about the italian situation as it is close to my heart, it is such a beautiful country that I love and so I'm very interested in what is happening there. I travel a lot and see the same story in many countries with varying degrees of success. We have many problems in the UK too, the people chose the wrong leaders and now they do nothing but complain !!
However it wont be naive of me to comment  on italian politics because italian is not my first language so a lot of cultural aspects are lost in translation!

6) Come back to the music. The new album sounds differently: brighter and it is son of your solo experiences and the last 10 years scene.  Do you think that in the next album will be space for further evolution and experimentations? If yes, what will the direction be?
Yes we are pushing our sound further, we are doing it right now and to be honest we are not sure where we will end up, right now the new direction is more beautiful be louder and heavier but who knows if it will stay that way, too early to tell.

7) You have often offered your songs like films soundtrack (This Year Sucker Punch with the cover of Stooges song). Would you like write a whole soundtrack? If yes, what kind of movie or director would you like to do for?
Yes I personally would love to do a whole movie soundtrack, there are many directors I'd love to work with, I have a personal rule never to mention them because I am superstitious that saying it out loud makes it not happen! ;-)
8) You have cooperated with many artists like Bjork, Marlene kuntz, Lenny Kravitz, Pavarotti. In the next album who would you like to cooperate with?
I have an idea but I'm not telling you!

9) Beyond skunk anansie project, you are busy in djset gigs.In the near future, will be there space for some kind of electronic solo projects?
I hope so, I am working on a new project.

10) And what about Format3? Died Project?
Format 3 died a horrible death but It is currently being reborn into something even more beautiful that everyone will finally get to hear!
 
Nicola Orlandino
---
Il video ufficiale di God Loves Only you. Il video, in realtà, è stato creato da un fan della band. Ma al gruppo è piaciuto così tanto che ha deciso di renderlo il video ufficiale.