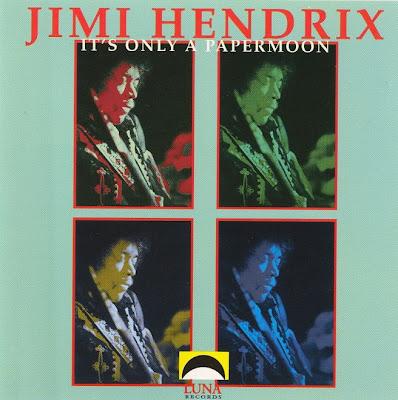 Jimi Hendrix
10th May 1968
It´s Only A Papermoon
Fillmore East
LUNA Rec. (LU 9420)
Fillmore East, New York, 10th May 1968 (date 10th March 1968 on artwork is wrong)
1) Lover Man
2) Fire
3) Foxy Lady
4) Red House
5) Hey Joe
6) Sunshine Of Your Love ~ Hear My Train A-Comin´(a.k.a. "Getting My Heart Back Together Again")
7) Can You Please Crawl Out Your Window
8) Purple Haze
Length 1-8: 53:17min
additional tracks:
Col Ballrom, Davenport, IA, 11th August 1968
9) Are You Experienced
Length: 8:52min
San José Pop Festival, Santa Clara, CA, 25th May 1969
10) I Don´t Live Today
Length: 7:05min
Length tracks 1-10: 69:14min
Personal:
James Marshall "Jimi" Hendrix: Vocals, Guitar
Noel Redding: Bass
Mitch Mitchell: Drums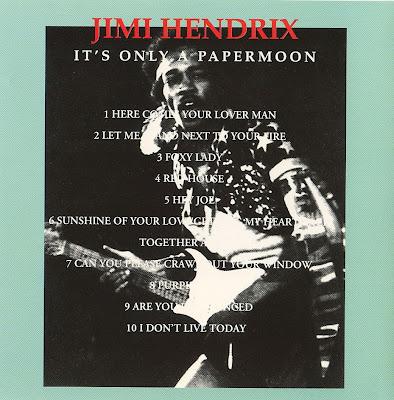 This concert features excellent performances by Jimi and the boys, including (AFAIK) the first live J.H.E. performance of Hear My Train A'Comin (a.k.a. Getting My Heart Back Together). (It starts out with a Sunshine of Your Love teaser, less than 30 seconds long.)
This is a great concert. The playing rocks, and the band is in a great mood. They're joking and having a lot of fun. (After the Sunshine of Your Love teaser, Jimi jokes that he should do a song by the Monkees to balance it out.) Fire ends with a brief Beach Boys Surfin' USA quote. The up-tempo version of Crawl Out Your Window has a funny ending that sounds so intentional you'll swear it was rehearsed. And, of course, there are all the great solos (guitar and drum), jams, and freaky sounds that you'd expect from the period. This was the band's first show back after more than a month of vacation from touring. During the hiatus Jimi jammed with friends and spent some time in the studio working on Electric Ladyland tracks like Voodoo Child and 1983... (see Plug Your Ears). You can tell the rest did them some good. They've definitely come back energized here at the Fillmore.
The bonus tracks are fabulous. There may be better live versions of Are You Experience out there, but there aren't many! The sound quality on I Don't Live Today could be better, but it's an amazing performance of an amazing song.
From:
http://www.me.umn.edu/~kgeisler/680510.html
Most Hendrix fans know of his performances with the Band Of Gypsys at the Filmore East, on Dec. 31/69 and Jan. 1/70. This CD however comes from a time earlier, featuring the JHE at the Filmore, May 10, 1968. The band at this point was solid, and performances often featured extended jams on songs, especially the blues numbers such as Red House. This CD is no exception. A 15+ minute Red House kicks some serious ass here. As does an extended Hey Joe, and Sunshine Of Your Love/Getting My Heart Back Together Again medley. Bob Dylan's Can You Please Crawl Out Your Window makes a rare appearance, and the concert closes with the always great Purple Haze. Apparently after Purple Haze, there was a opening chord played of Wild Thing, but it's not here. Jimi didn't play the song, but it would have made for a nice complete package for it to be included. But that's nit-picking :) It's a good release that can be picked at for it's minor points only. Two tracks from other concerts have been included with this disc to fill it out. Are You Experienced comes from Davenport 68, and I Don't Live Today from the San Jose Pop Festival. Don't really belong here, but again, when all you have is little things like that to pick on, you must have a good release. And with this one, you do. Besides, what the hell am I doing complaining about too much Hendrix? :) I only have one other Luna release in my collection (Broadcasts), but based on these 2 releases, they sure seem to have a grasp on what makes for a good release.
From:
http://www.oocities.org/hendrix-jimi/112.html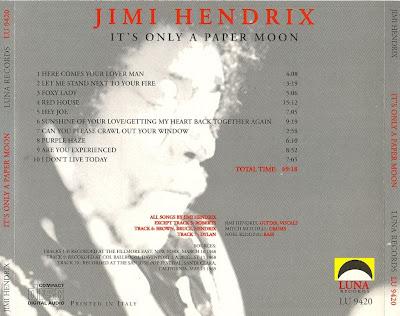 Album Mp3: http://www.mediafire.com/?hk6l1il97bcnr8q
Ref.:
http://www.guitars101.com/forums/f90/jimi-hendrix-its-only-a-paper-moon-67947.html
http://www.bootlegzone.com/album.php?name=lu9420
http://rockpopbootlegs.blogspot.it/2010/12/jimi-hendrix-1968-05-10-new-york.html
http://www.oocities.org/hendrix-jimi/112.html