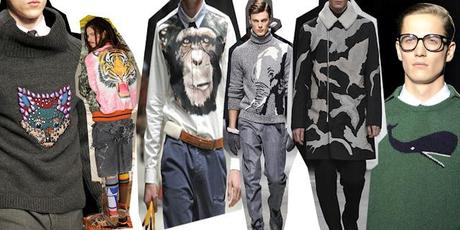 From left to right: Burberry Prorsum, Bernhard Willhel, Andrea Pompilio, Corneliani, Dior Homme, Jil Sander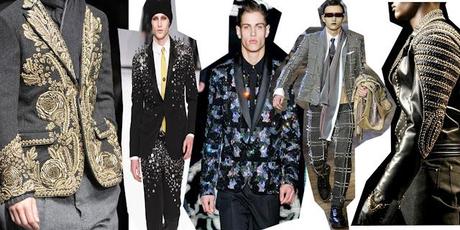 From left to right: Dolce&Gabbana, Frankie Morello, Versace, Thom Browne, Versace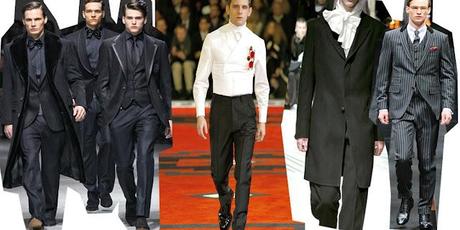 From left to right: Corneliani x3, Prada, Yohji Yamamoto, Canali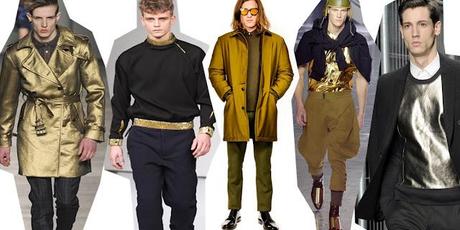 From left to right: Marc by Marc Jacobs, Patrick Ervell, Marc Jacobs, John Galliano, Neil Barrett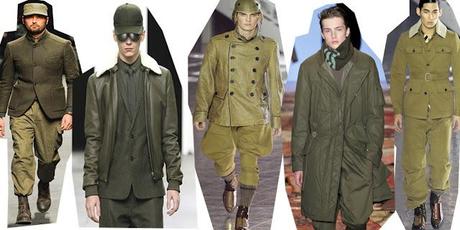 From left to right: Umit Benan, Dior Homme, John Galliano, Y3, John Galliano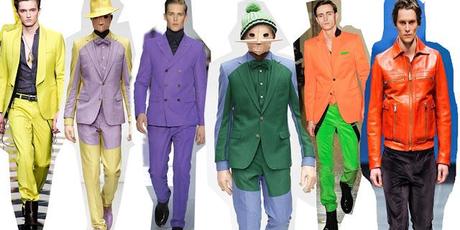 From left to right: Roberto Cavalli, Walter Van Beirendonck, Hugo, Walter Van Beirendonck, Moschino, Diesel Black Gold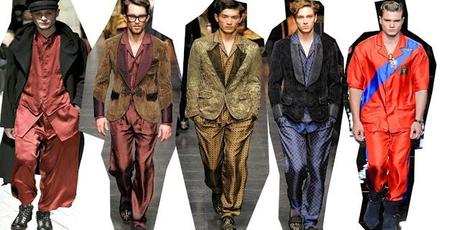 From left to right: Yohji Yamamoto, Dolce&Gabbana x3, Versace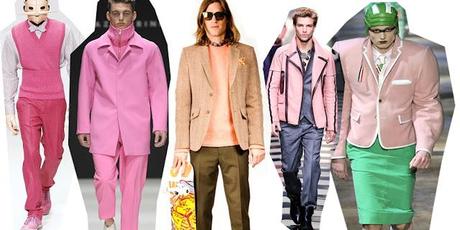 From left to right: Walter Van Beirendonck, Gazzarini, Marc Jacobs, Roberto Cavalli, Thom Browne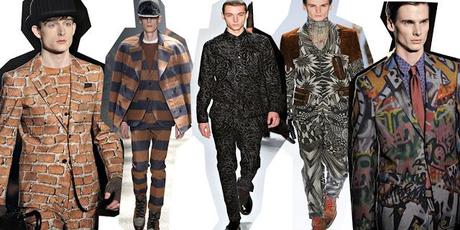 From left to right: Moschino, Lanvin, Tweiland, Custo Barcelona, Moschino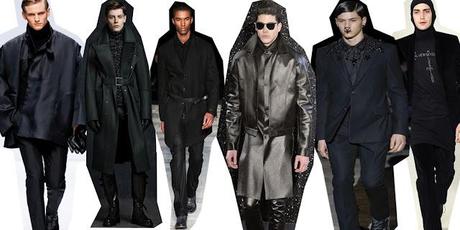 From left to right: Ports 1961, Belstaff, John Varvatos, Mugler, Givenchy, Agnes B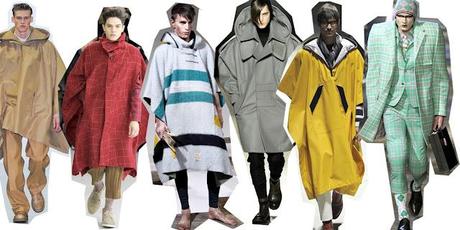 From left to right: Calvin Klein Collection, Issey Miyake, John Barlett, Juun J., Andrea Pompilio, Thom Browne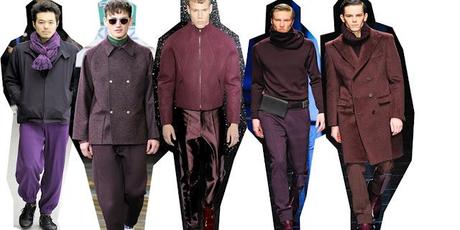 From left to right: Issey Miyake, Kenzo, Mugler, Salvatore Ferragamo x2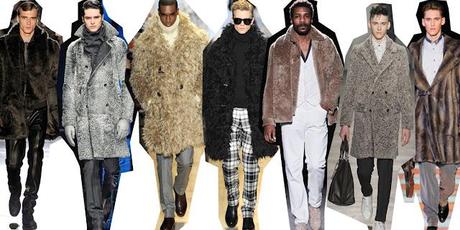 From left to right: Viktor&Rolf, Salvatore Ferragamo, Micheal Kors x2, Maison Martin Margiela, Marc by Marc Jacobs, Germani C.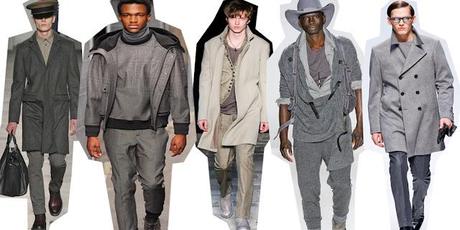 From left to right: Marc by Marc Jacobs, Neil Barrett, John Varvatos, Nicholas K., Ports 1961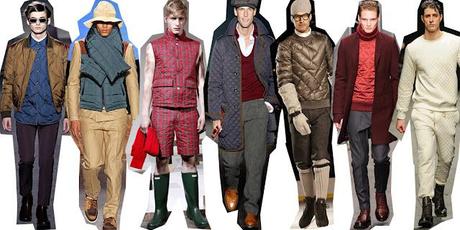 From left to right: Acne, Band of Outsiders, John Barlett, Micheal Bastian, Moncler Grenoble, Neil Barrett, Umit Benan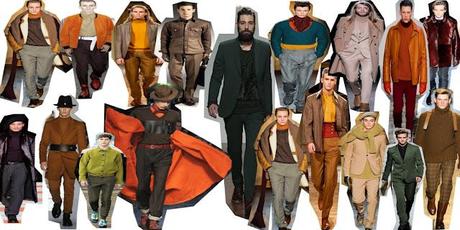 §
It's hot as hell, we are in the middle of summer, sales are going to start soon and in stores new entries are approaching for next season.
What should men be wearing for last winter, in Maya's opinion, on Earth?
Collections are full of ideas and innovation, colors are new and materials are mixed more then ever, patterns are everywhere and financial crisis gives way to embroidered jackets.
The 'must have' is the old usual good taste that should never be missing in the closet and surely it's ok to use fantasy and  desire of novelty.
Animal prints, it might sound like a song title but it's a funny animal print game on shirts and sweaters: tender and playful, from Jil Sander to Burberry Prorsum.
Fur inserts. Fake fur please, everywhere, in so many collections: from coats to sweaters and also accessories such as hats and scarves, see Damir Doma or Micheal Korsor Galliano.
Don't exaggerate with  fur, I'm pretty sure you don't want to look like a siberian hunter.
Matelassé effect: french word for quilt: this year this effect is present in sweaters, scarves and coats, of course. You can also create a total quilted look, like Moncler did.
Oversize: extralarge sizes for slim and well toned bodies: it's the rule!
Jackets and coats have been widened in order to give a more 

bohemien 

casual look to formal outfits. Juun, Calvin Klein Collections or eccentric Thom Browne collection.
Pajama Party: I wouldn't know how to name this new look.
Pajamas in precious silk that with the right blazer can work as a perfect party look.
It's been seen a lot during Milan fashion shows: from Dolce&Gabbana to Versace.
And then colors, colorful trends: I don't agree with the fact that each season has a trendy color, all colors can be trendy, the point is to use them rationally.
This year a red touch is everywhere, pink both shocking and powder peeps often, blues from petroleum to electric, and so called autumn colors, magnificent oranges, beiges, dark purples, military green. And black, timeless black. 
That's the real must!
§
Fa caldo come all'inferno, siamo nel pieno dell'estate, i saldi sono cominciati e tra poco nei negozi arrivano le new entries per la prossima stagione.Come deve vestire l'uomo per l'ultimo inverno, a detta dei Maya, sulla faccia della Terra?Le collezioni sono rindondanti di idee e novità, i colori sono nuovi e i materiali miscelati più che mai, le fantasie esplodono e la crisi finanziaria lascia spazio alle incrostazioni preziose sulle giacche.Il must have è il solito vecchio buon gusto che mai deve mancare nel guardaroba ma sicuramente non guasta un velo di fantasia e volontà di novità.
Disegni animali, potrebbe essere titolo di una canzone di Renato Zero, invece è un simpatico gioco di stampe abbastanza elementari di animali sui maglioni e sulle camicie: tenero e giocoso, da Jil Sander a Burberry Prorsum.
Inserti di pelliccia. Pelliccia finta per piacere, presente ovunque, in una miriade di collezioni: dai cappotti all'interno dei maglioni fino ai accessori come cappelli e sciarpe, vedi Damir Doma o Micheal Kors o Galliano.
Non esageriamo con le pellicce però, non giriamo in città come cacciatori siberiani.
Effetto matelassé: parola francese per indicare la trapunta: quest'anno sono inseriti elementi trapuntati in magliette, sciarpe e cappotti ovviamente. Si possono creare total quilted look, come ha fatto Moncler. 
Oversize: taglie extralarge anche per i fisici più tonici: è la regola!
Le giacche e i cappotti sono stati allargati per dare un look 

bohemien

 casual a look magari importanti. 
Juun, Calvin Klein Collection o l'eccentrica collezione di Thom Browne.
Pigiama da party: non saprei dare un nome specifico a questo nuovo tipo di look.
Sono pigiami in seta preziosa che con il giusto blazer possono creare un perfetto look da party.
Molto visto alle sfilate milanesi: da Dolce&Gabbana a Versace.
E poi i colori, i trend colorati: non sono d'accordo che ogni stagione abbia il suo trend color, tutti i colori sono trendy, basta saperli razionalizzare.
Quest'anno un tocco rosso è ovunque, il pink sia shocking che cipria spunta spesso, i blu dal petrolio all'elettrico, e i cosiddetti colori autunno, magnifici arancio, beige, dark purple, verdi militari.
Infine l'intramontabile black, total black.
Ecco il vero must.