"The best of Italy" in prima linea nell'imminente BFI London Film Festival
Il cinema italiano gode di buona salute e vitalità, a sottolinearlo è l'Istituto Luce Cinecittà (Filmitalia) che annuncia i 6 film italiani selezionati dalla 58° edizione del London Film Festival (LFF), la kermesse cinematografica londinese, tra le più prestigiose d'Europa, che si svolgerà dall'8 al 19 ottobre. Le Meraviglie di Alice Rohrwacher; Cuori affamati di Saverio Costanzo; Anime Nere di Francesco Munzi; Leopardi di Mario Martone; La cena di Ivano De Matteo e Smetto quando voglio di Sydney Sibilia; questi i titoli dei lungometraggi di grande caratura artistica tricolore che hanno conquistato a buon titolo anche questa vetrina internazionale.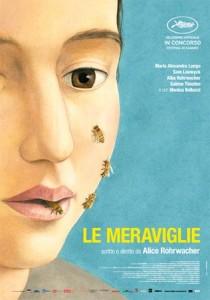 Inoltre in occasione della celebrazione del 90° anno di attività lo
storico Istituto Luce presenterà al LFF una selezione di nuovi cortometraggi
, della durata di 10 minuti ciascuno, realizzati dai più apprezzati registi italiani. Nove cortometraggi a tema specifico che danno vita al progetto chiamato appunto 9×10. Al LFF saranno presenti i registi:
Alice Rohrwacher (Le meraviglie); Saverio Costanzo (Cuori affamati); Ivano De Matteo (La cena). Sono attesi anche i registi: Francesco Munzi (Anime Nere); Mario Martone e Ippolita Di Majo (Leopardi); Sydney Sibilia e Pietro Sermonti (Smetto quando voglio).
Di Katya Marletta per Oggialcinema.net
THE FILMS / public screenings

LEOPARDI - Director Mario Martone
Wednesday 8th, 6.00pm – NFT3Thursday 9th, 6.00pm – VUE ISLINGTON 1Strand: Love (135 mins)
Mario Martone's Leopardi illuminates the life and soul of one of Italy's most significant and influential poets. From his early days at home under his father's watchful gaze, through to  leaving home and discovering that he does not fit into Italy's high society, to love affairs in Florence followed by an immersion into a cholera ridden working class Naples, this sweeping, detailed film demonstrates the interrelation between the life and literature of this most freethinking of iconoclasts, strikingly portrayed by Elio Germano.Screens with INTO THE WAR (L'ENTRATA IN GUERRA), dir. Roland Sejko, from the 9×10 anthology (10 mins).

I CAN QUIT WHENEVER I WANT – Director Sydney Sibilia
Saturday 11th, 12.15pm – CURZON MAYFAIRWednesday 15th, 8.45pm – ODEON COVENT GARDENStrand: Laugh (100 mins)
When Pietro is laid off from his university job, he decides to start up his own business. He recruits a group of his fellow down-at-heel university professors to enter the drug trade, albeit dealing only drugs made with yet to be banned substances. But their naivety is soon exposed as they fall foul of those on both sides of the law. Sydney Sibilia's debut film is a comedy of misadventure with a smart, topical edge.Screens with PANIC (PROGETTO PANICO), dir. Paola Randi, from the 9×10 anthology (10 mins).Paola Randi will be introducing her film, as well as the 9×10 anthology on Saturday 11th.
BLACK SOULS – Director Francesco MunziSaturday 11th, 8.45pm – CINE LUMIERETuesday 14th, 3.15pm – VUE7Strand: Thrill (103 mins)
An adaptation of a novel by Gioacchino Criaco, itself based on a true story, Francesco Munzi's Black Souls puts a new spin on the Italian family feud, playing out like a contemporary western. When a minor spat triggers the hostility of a rival clan, three brothers from Southern Italy who are steepedin the life of the 'Ndrangheta (the Calabrian equivalent of the Mafia), are caught up in a spiral of events and emotions that escalate out of their control, heading towards tragedy.Screens with BORDERLANDS, dir. Alina Marazzi, from the 9×10 anthology (10 mins).
THE WONDERS – Director Alice Rohrwacher
Monday 13th, 8.30pm – VUE5Wednesday 15th, 8.45pm – HACKNEY PICTUREHOUSEStrand: Journey (110 mins)
Winner of the Grand Jury Prize at this year's Cannes Film Festival, Alice Rohrwacher's second film (after her critically acclaimed 2011 debut Corpo Celeste) tells the beguiling story of a summer in the life of 12 year old Gelsomina, whose family – exiled from modern life in rural Italy – is disrupted by the arrival of a bizarre TV talent show from the city, and a delinquent German boy from a rehabilitation program, who comes to work on their bee-keeping farm.Screens with UNA CANZONE, dir. Alice Rohrwacher, from the 9×10 anthology (10 mins).
HUNGRY HEARTS  - Director Saverio Costanzo
Tuesday 14th, 6.30pm – VUE5Thursday 16th, 6.15pm – CINE LUMIEREFriday 17th, 12.30pm – NFT1Strand: Love (109 mins)
Winner of the Best Actor (Adam Driver) and Best Actress (Alba Rohrwacher) Awards at this year's Venice Film Festival, Hungry Hearts tells the story of Jude (American) and Mina (Italian), who after a chance meeting in a New York restaurant washroom, embark on a whirlwind romance, marry and swiftly become pregnant. But their charming romance gives way to something darker and more disturbing when Mina's obsessive protectiveness of her newborn son begins to endanger his life, and Jude has to act quickly, pushing both newlyweds to their emotional limits.Screens with MY DUTIES AS BRIDE (IL MO DOVERE DI SPOSA), dir. Claudio Giovannesi, from the 9×10 anthology (10 mins).
THE DINNER – Director Ivano De Matteo
Thursday 16th, 12.00pm – VUE5Saturday 18th, 2.35pm – CURZON MAYFAIRStrand: Dare (92 mins)
Two brothers meet regularly for dinner at a fashionable restaurant with their wives. Their teenage children are also close school friends. One fateful night, the children are out, and something horrific happens, leaving the families with a terrible moral dilemma. The polite chitchat and civility of dinner disintegrate, as both couples demonstrate how far they are prepared to go to protect those they love. An enthralling psychological drama based on Dutch author Herman Koch's best-selling thriller 'Our Children'.Screens with TUBIOLO AND THE MOON (TUBIOLO E LA LUNA), dir. Marco Bonfanti, from the 9×10 anthology (10 mins).