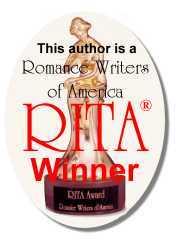 I

RITA AWARDS 2010

, che, come molte di voi ormai sanno, sono a tutt'oggi le massime onorificenze attribuite ogni anno ai romanzi giudicati più meritevoli dalla più grande associazione di scrittrici romance americana, la

RWA,

sono stati consegnati sabato

31 luglio

durante la serata di gala che ha concluso il 30° meeting dell'associazione tenuto quest'anno in Florida nel fiabesco Walt Disney Swan and Dolphin e...
...sono stata felicissima di scoprire che

SHERRY THOMAS

, una delle mie autrici preferite, finalmente ce l'ha fatta (era ora!). Il suo

NOT QUITE A HUSBAND

è stato giudicato il

MIGLIOR ROMANZO STORICO

del 2009

( i premi 2010 si riferiscono a libri usciti nel 2009). Spero che questa vittoria farà finalmente capire ai nostri editori che è ora di farla conoscere anche alle lettrici italiane!

Anche

JULIA QUINN

, brava autrice già nota ed amata dalle romance fan di casa nostra, ha ricevuto un premio durante la stessa serata. Si è aggiudicata infatti il

RITA 2010

per il

MIGLIOR ROMANZO STORICO REGENCY

del 2009

per il suo

WHAT HAPPENS IN LONDON

.

Adesso proprio non potrò fare a meno di rileggermi

NOT QUITE A HUSBAND

e di mettere mano a

WHAT HAPPENS IN LONDON

che ho già da qualche tempo fra i mie molti (troppi?) libri da leggere.
A voi non posso che consigliare entrambi!


2010 RITA WINNER FOR BEST HISTORICAL ROMANC

E





Their marriage lasted only slightly longer than the honeymoon—to no one's surprise, not even

Bryony Asquith

's. A man as talented, handsome, and sought after by society as

Leo Marsden

couldn't possibly want to spend his entire life with a woman who rebelled against propriety by becoming a doctor. Why, then, three years after their annulment and half a world away, does he track her down at her clinic in the remotest corner of India?

Leo has no reason to think Bryony could ever forgive him for the way he treated her, but he won't rest until he's delivered an urgent message from her sister—and fulfilled his duty by escorting her safely back to England. But as they risk their lives for each other on the journey home, will the biggest danger be the treacherous war around them—or their rekindling passion?

( Se vuoi saperne di più, vai alla pagina che gli ho dedicato quando ho ricevuto il libro con dedica da Sherry stessa, leggi qui. )

2010 RITA WINNER FOR BEST REGENCY HISTORICAL ROMANCE

When

Olivia Bevelstoke

is told that her new neighbor may have killed his fiancée, she doesn't believe it for a second, but still, how can she help spying on him, just to be sure? So she stakes out a spot near her bedroom window, cleverly concealed by curtains, watches, and waits... and discovers a most intriguing man, who is definitely up to something.


Sir Harry Valentine

works for the boring branch of the War Office, translating documents vital to national security. He's not a spy, but he's had all the training, and when a gorgeous blonde begins to watch him from her window, he is instantly suspicious. But just when he decides that she's nothing more than a nosy debutante, he discovers that she might be engaged to a foreign prince, who might be plotting against England. And when Harry is roped into spying on Olivia, he discovers that he might be falling for her himself...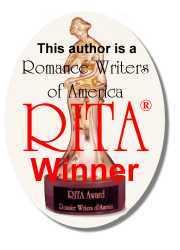 I premi

RITA 2010

sono stati assegnati anche ad altre categorie romance, ecco gli altri romanzi vincitori:


BEST CONTEMPORARY SINGLE TITLE




When Grace Emerson's ex-fiancé starts dating her younger sister, extreme measures are called for. To keep everyone from obsessing about her love life, Grace announces that she's seeing someone. Someone wonderful. Someone handsome. Someone completely made up. Who is this Mr. Right? Someone.exactly unlike her renegade neighbor Callahan O'Shea. Well, someone with his looks, maybe. His hot body. His knife-sharp sense of humor. His smarts and big heart.

Whoa. No. Callahan O'Shea is not her perfect man! Not with his unsavory past. So why does Mr. Wrong feel so right? BEST FIRST BOOK

Killer Chevy Bankes is a master of disguise, and just paroled, he's coming after the woman who sent him to jail, the beautiful antiques expert Beth Denison. A set of antique dolls brings Beth into his sight, and inspire Chevy's disturbing crimes as he draws closer to Beth and her young daughter. Chevy sends the dolls to Beth one-by-one and she soon realizes that these antiques carry the same marks as his victims, signaling that the final piece in his collection will be for her.Neil Sheridan gave up his FBI shield five years ago, but his best friend Rick, a cop, pulls him in as a consultant on a case involving a serial killer who is eerily similar to a murderer Neil encountered in the past. The investigation leads Neil to Beth's doorstep, and he is certain she isn't telling him the truth. Neil is the only one who can get through Beth's defenses and, as they grow closer, discover the secrets that Beth is hiding about her fateful night with Chevy.





BEST ROMANTIC SUSPENSE

Courtney Glass has been in trouble all her life, but nothing tops being an up-close witness to a brutal murder. Until she's accused of the crime. Every scrap of evidence points to her guilt, and now Courtney must prove to police that she's not a murderer, but she is one of the killer's intended victims. As investigators hammer her for answers, Courtney knows she has two choices: run, or trust the brooding, sexy detective who's made it clear she's his prime suspect.

BEST PARANORMAL ROMANCE


For centuries, Rydstrom, fallen king of the Rage Demons, has fought to seize his crown, never relenting, until he is tricked into the lair of a exquisite enchantress. If she can tempt him to her bed, everything he's worked for will be lost. Sabine the Sorceress of Illusions has long accepted her fate: to seduce a demon king. But once she kisses the brutal warrior, she realizes seduction is far from the punishment she'd feared. Yet just when they begin to fall for each other, one will be forced to make the ultimate sacrifice. Will Sabine give up the only life she knows to save her demon? Or will the proud king lay down his crown and arms to keep his sorceress...?
BEST CONTEMPORARY SERIES ROMANCE SUSPENSE/ADVENTURE



Dashing spy Jagger Holtz lived in a world of danger. Not even a sweet brown-eyed siren alone on New Year's Eve could be trusted, especially when he had to bring down her employer. Somehow Emily Grainger broke through his defenses - and set him up for two years of torturous captivity. Or so he thought.




Emily hadn't expected a cryptic message to lead her to rescue the man who'd disappeared after their night of passion. Nor had she known that he'd been held prisoner all that time and believed that she

was responsible. Despite the suspicion, they must work together to stop the threat against them.and protect their precious daughter.


BEST CONTEMPORARY SERIES ROMANCE


Nina Carlson knows all about Dillon Ward. Knows he served time in prison. Knows nobody put out the welcome mat when he moved to Serenity Springs. But that doesn't stop her from renting him a place to live. And when someone crashes into her bakery, he's just the man to fix the damage.And Nina isn't the only one who thinks Dillon's the perfect man for the job: her two kids have taken a shine to him. Still, she can't afford to get close to Dillon, even if he is tempting her to toss out her good-girl shoes. Because it's not that she doesn't trust him. It's that she doesn't trust herself.



BEST NOVEL WITH STRONG ROMANTIC ELEMENTS


In this sumptuous new novel, Barbara O'Neal offers readers a celebration of food, family, and love as a woman searches for the elusive ingredient we're all hoping to find..
It's the opportunity Elena Alvarez has been waiting for-the challenge of running her own kitchen in a world-class restaurant. Haunted by an accident of which she was the lone survivor, Elena knows better than anyone how to survive the odds. With her faithful dog, Alvin, and her grandmother's recipes, Elena arrives in Colorado to find a restaurant in as desperate need of a fresh start as she is-and a man whose passionate approach to food and life rivals her own. Owner Julian Liswood is a name many people know but a man few do. He's come to Aspen with a troubled teenage daughter and a dream of the kind of stability and love only a family can provide. But for Elena, old ghosts don't die quietly, yet a chance to find happiness at last is worth the risk.


BEST ROMANCE NOVELLA :
THE CHRISTMAS EVE PROMISE ( Molly O'Keefe)


When their private plane crashes in the Sierra Nevada, two political enemies discover that survival means more than just living - it also means loving.
A gripping story by New York Times bestselling author Brenda Novak.
***
Wrapped in a bow and left on a doorstep, an innocent baby proves a true gift for three couples who have let hurt feelings get in the way of healing hearts.
A tender tale of family and forgiveness by USA TODAY bestselling author Day Leclaire.
***


Reluctantly returned home after a disastrous breakup, a young woman is thrown together with the man she once pushed away - but never forgot.


A touching story of secrets revealed and love reclaimed, by beloved Harlequin author Molly O'Keefe.
BEST INSPIRATIONAL ROMANCE

Desperate for a chance to start over, McKenna Ashford accepts her cousin's invitation and moves west with her rebellious younger brother to a not-so-quaint mountain town in Colorado. She discovers that life in Copper Creek is far from what she expected. Having practically raised Robert on her own, McKenna is burdened both with her failure as a parent and her deep conviction to not let her brother throw his life away.
Trusting has never come easily for her--especially in issues of the heart--and that inability to trust is put to the test when she meets U.S. Marshall Wyatt Caradon.
After years on the trail, Wyatt Caradon finds himself at a crossroads. He's brought countless men to justice, but he questions what lasting good his life has accomplished. When his path intersects that of young Robert Ashford, Wyatt glimpses himself, years ago, in the boy's pride and arrogance. He also sees a boy without a firm hand in his life. His well-meant attempt to help Robert brings him face-to-face with the one situation he never wanted to encounter--and the one woman who holds the key to helping him find his future.



BEST YOUNG ADULT ROMANCE




Perfecty Chemistry

( Simone Elkeles)

When Brittany Ellis walks into chemistry class on the first day of senior year, she has no clue that her carefully created 'perfect' life is about to unravel before her eyes. She's forced to be lab partners with Alex Fuentes, a gang member from the other side of town, and he is about to threaten everything she's worked so hard for - her flawless reputation, her relationship with her boyfriend, and the secret that her home life is anything but perfect. Alex is a bad boy and he knows it. So when he makes a bet with his friends to lure Brittany into his life, he thinks nothing of it. But soon Alex realizes Brittany is a real person with real problems, and suddenly the bet he made in arrogance turns into something much more.
In a passionate story about looking beneath the surface, Simone Elkeles breaks through the stereotypes and barriers that threaten to keep Brittany and Alex apart.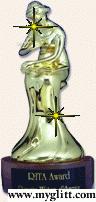 Se volete sapere quali sono stati tutti i romanzi finalisti quest'anno ai RITA AWARDS, andate qui.

Se volete sapere qualcosa in più sui

RITA AWARDS,

andate qui e leggete la nostra scheda riassuntiva.
Read more: http://bibliotecaromantica.blogspot.com/2010/08/rita-awards-2010-finalmente-sherry.html#ixzz0vjCMVIUz