I Dottori specialisti in Malattie Seriali fanno una loro diagnosi sulle nomination.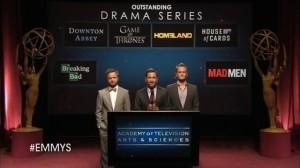 Grandi novità quest'anno tra le nomination degli Emmy Award, i premi della televisione americana. Per la prima volta infatti nella storia sono state nominate tre webseries, Hermlock Grove, Arrested Development e House Of Cards per un totale di 14 Nomination. Un segnale forte all'industria televisiva che aveva vissuto una leggera crisi di spettatori negli ultimi anni e che ha bisogno di nuovi canali di distribuzione per poter continuare a sopravvivere.
A parte queste novità, anche quest'anno ritroviamo candidati gli stessi nomi degli anni passati come Game Of Thrones e American Horror Story: Asylum che fanno il pienone di nomination nella categoria Drama, mentre nella categoria Commedy prevalgono 30 Rock e Modern Family.
Il Dott. O'Malley spera che House Of Cards vinca in tutte le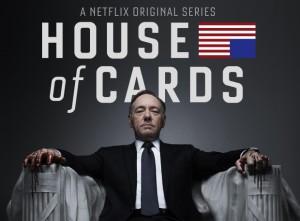 categorie in cui è stato nominato: dal premio a Kevin Spacey, bravissimo nel ruolo del cinico politico protagonista della serie, al premio per la regia del Pilot al famoso David Fincher. Tra gli attori, invece, parteggia per
Bobby Cannavale
nominato come Miglior Attore non protagonista per
Boardwalk Empire
e per Benedict Cumberbatch in lizza per il premio di Miglior Attore per la miniserie
Parade's End
.
La Dott.ssa Burke invece incrocia le dita perché
Game of Thrones
vinca nelle categorie importanti e sopratutto che si riconosca l'incredibile e ben strutturata sceneggiatura dell'eccellente episodio "The Rains of Castamere". L'indecisione è grande sulla scelta tra Diana Rigg per
Game Of Thrones
o
Jane Fonda
per
The Newsroom
nella categoria Miglior Attrice Ospite – beh speriamo che almeno una di queste due interpreti porti a casa la statuetta. Come Migliore Attore invece punta tutto su Jeff Daniels, l'anchorman Will McAvoy in
The Newsroom
.
Tra le serie assenti The Following, che a detta di  O'Malley meritava almeno la nomination per l'attore Kevin Beacon. Altre escluse sono le due brillanti serie Community e The Office non nominate nella categoria Miglior Commedia; fortunatamente la Burke si consola con la nomination di Miglior Sceneggiatura per una Commedia per l'episodio "Finale" di The Office.
Entrambi i dottori concordano sul fatto che How I Met Your Mother sia giustamente scomparso in qualsiasi categoria visto il calo qualitativo che la serie ha avuto nell'ultimo anno.
Appuntamento quindi a Settembre per conoscere i vincitori!
Dr.O Malley e Dr. Juliet Burke
 ECCO L'ELENCO COMPLETO DEI NOMINATI
Outstanding Comedy Series:
"30 Rock" (NBC)
"The Big Bang Theory" (CBS)
"Girls" (HBO)
"Louie" (FX)
"Modern Family" (ABC)
"Veep" (HBO)
Outstanding Lead Actor in a Comedy Series:
Jason Bateman, "Arrested Development"
Jim Parsons, "The Big Bang Theory"
Matt LeBlanc, "Episodes"
Don Cheadle, "House of Lies"
Louis C.K., "Louie"
Alec Baldwin, "30 Rock"
Outstanding Lead Actress in a Comedy Series:
Laura Dern, "Enlightened"
Lena Dunham, "Girls"
Edie Falco, "Nurse Jackie"
Amy Poehler, "Parks and Recreation"
Tina Fey, "30 Rock"
Julia Louis-Dreyfus, "Veep"
Outstanding Supporting Actor in a Comedy Series:
Adam Driver, "Girls"
Jesse Tyler Ferguson, "Modern Family"
Ed O'Neill, "Modern Family"
Ty Burrell, "Modern Family"
Bill Hader, "Saturday Night Live"
Tony Hale, "Veep"
Outstanding Supporting Actress in a Comedy Series:
Mayim Bialik, "The Big Bang Theory"
Jane Lynch, "Glee"
Sofia Vergara, "Modern Family"
Julie Bowen, "Modern Family"
Merritt Wever, "Nurse Jackie"
Jane Krakowski, "30 Rock"
Anna Chlumsky, "Veep"
Outstanding Drama Series:
"Breaking Bad" (AMC)
"Downton Abbey" (PBS)
"Game of Thrones" (HBO)
"Homeland" (Showtime)
"House of Cards" (Netflix)
"Mad Men" (AMC)
Outstanding Lead Actor in a Drama Series:
Bryan Cranston, "Breaking Bad"
Hugh Bonneville, "Downton Abbey"
Damian Lewis, "Homeland"
Kevin Spacey, "House of Cards"
Jon Hamm, "Mad Men"
Jeff Daniels, "The Newsroom"
Outstanding Lead Actress in a Drama Series:
Vera Farmiga, "Bates Motel"
Michelle Dockery, "Downton Abbey"
Claire Danes, "Homeland"
Robin Wright, "House of Cards"
Elisabeth Moss, "Mad Men"
Connie Britton, "Nashville"
Kerry Washington, "Scandal"
Outstanding Supporting Actor in a Drama Series:
Bobby Cannavale, "Boardwalk Empire"
Jonathan Banks, "Breaking Bad"
Aaron Paul, "Breaking Bad"
Jim Carter, "Downton Abbey"
Peter Dinklage, "Game of Thrones"
Mandy Patinkin, "Homeland"
Outstanding Supporting Actress in a Drama Series:
Anna Gunn, "Breaking Bad"
Maggie Smith, "Downton Abbey"
Emilia Clarke, "Game of Thrones"
Christine Baranski, "The Good Wife"
Morena Baccarin, "Homeland"
Christina Hendricks, "Mad Men"
Outstanding Miniseries or Movie:
"American Horror Story: Asylum" (FX)
"Behind the Candelabra" (HBO)
"The Bible" (History)
"Phil Spector" (HBO)
"Political Animals" (USA)
"Top of the Lake" (Sundance Channel)
Outstanding Lead Actor in a Miniseries or a Movie:
Michael Douglas, "Behind the Candelabra"
Matt Damon, "Behind the Candelabra"
Toby Jones, "The Girl"
Benedict Cumberbatch, "Parade's End"
Al Pacino, "Phil Spector"
Outstanding Lead Actress in a Miniseries or a Movie:
Jessica Lange, "American Horror Story: Asylum"
Laura Linney, "The Big C: Hereafter"
Helen Mirren, "Phil Spector"
Sigourney Weaver, "Political Animals"
Elisabeth Moss, "Top of the Lake"
Outstanding Supporting Actor in a Miniseries or a Movie:
James Cromwell, "American Horror Story: Asylum"
Zachary Quinto, "American Horror Story: Asylum"
Scott Bakula, "Behind the Candelabra"
John Benjamin Hickey, "The Big C: Hereafter"
Peter Mullan, "Top of the Lake"
Outstanding Supporting Actress in a Miniseries or a Movie:
Sarah Paulson, "American Horror Story: Asylum"
Imelda Staunton, "The Girl"
Ellen Burstyn, "Political Animals"
Charlotte Rampling, "Restless"
Alfre Woodard, "Steel Magnolias"
Outstanding Variety Series:
"The Colbert Report" (Comedy Central)
"The Daily Show with Jon Stewart" (Comedy Central)
"Jimmy Kimmel Live" (ABC)
"Late Night With Jimmy Fallon" (NBC)
"Real Time with Bill Maher" (HBO)
"Saturday Night Live" (NBC)
Outstanding Host for a Reality or Reality-Competition Program:
Ryan Seacrest, "American Idol"
Betty White, "Betty White's Off Their Rockers"
Tom Bergeron, "Dancing with the Stars"
Heidi Klum and Tim Gunn, "Project Runway"
Cat Deeley, "So You Think You Can Dance"
Anthony Bourdain, "The Taste"
Outstanding Reality-Competition Program:
"The Amazing Race" (CBS)
"Dancing with the Stars" (ABC)
"Project Runway" (Lifetime)
"So You Think You Can Dance" (Fox)
"Top Chef" (Bravo)
"The Voice" (NBC)
Outstanding Reality Program:
"Antiques Roadshow" (PBS)
"Deadliest Catch" (Discovery Channel)
"Diners, Drive-Ins and Dives" (Food Network)
"MythBusters" (Discovery Channel)
"Shark Tank" (ABC)
"Undercover Boss" (CBS)
Outstanding Animated Program:
"Bob's Burgers" (Fox)
"Kung Fu Panda: Legends of Awesomeness" (Nickelodeon)
"Regular Show" (Cartoon Network)
"The Simpsons"
"South Park"
Outstanding Guest Actor in a Comedy Series:
Bob Newhart, "The Big Bang Theory"
Nathan Lane, "Modern Family"
Bobby Cannavale, "Nurse Jackie"
Louis C.K., "Saturday Night Live"
Justin Timberlake, "Saturday Night Live"
Will Forte, "30 Rock"
Outstanding Guest Actress in a Comedy Series:
Molly Shannon, "Enlightened"
Dot-Marie Jones, "Glee"
Melissa Leo, "Louie"
Melissa McCarthy, "Saturday Night Live"
Kristen Wiig, "Saturday Night Live"
Elaine Stritch, "30 Rock"
Outstanding Guest Actor in a Drama Series:
Nathan Lane, "The Good Wife"
Michael J. Fox, "The Good Wife"
Rupert Friend, "Homeland"
Robert Morse, "Mad Men"
Harry Hamlin, "Mad Men"
Dan Bucatinsky, "Scandal"
Outstanding Guest Actress in a Drama Series:
Margo Martindale, "The Americans"
Diana Rigg, "Game of Thrones"
Carrie Preston, "The Good Wife"
Linda Cardellini, "Mad Men"
Jane Fonda, "The Newsroom"
Joan Cusack, "Shameless"